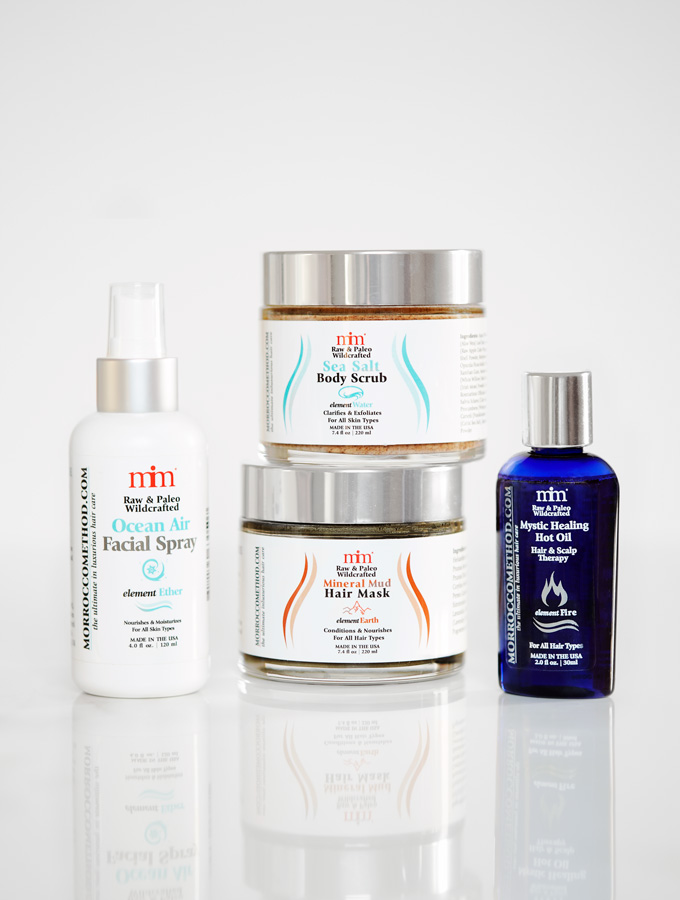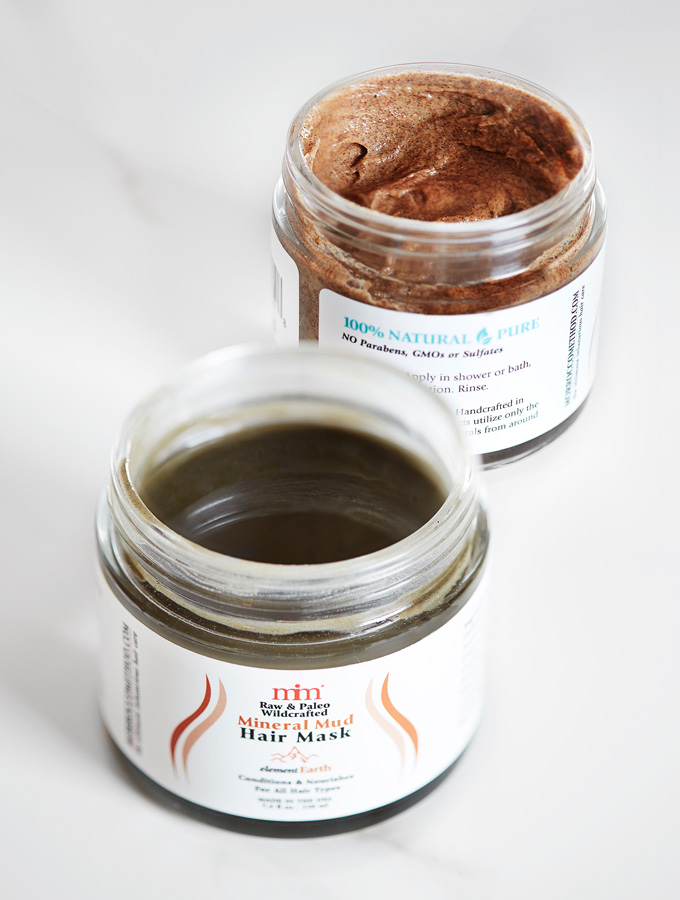 Soothing Mask & Hot Oil For Healthy Hair
Earlier this year I'd had it in mind to experiment with making a clay hair mask, so I was thrilled to learn about Morrocco Method's new Mineral Mud Hair Mask. Since receiving it a month ago, I've been using the decadent Montmorillonite mud mask during my weekly – deeply restorative – Magnesium Chloride & Essential Oil baths. The hair mask and soak are the perfect pairing, allowing for plenty of time to let the clay mask penetrate the hair and soothe my scalp.
Mineral rich clays draw out impurities and help to restore oil balance, and this rejuvenating action can be applied to great effect on our tresses and scalp. Montmorillonite clay, also known as Bentonite, is the main ingredient in Morrocco Method's hair mask. Bentonite's potent detoxification properties are embedded in century-old medicinal traditions. The calming effects on the scalp and skin are owed to it's ability to boost circulation and reduce inflammation. The detoxification action of Bentonite clay can reduce redness, help heal skin, while also drawing out heavy metals, pesticides, molds, fungi, and treat bacterial infections.
The effects of this hair-rejuvenating mask help to gently restore healthy hair texture and suppleness of the scalp.  I've been really loving the ritual and my healthier feeling hair. The only con with this mask is that my sleek straight hair is left a little greasy with the residues of the nutrient rich oils contained in the mixture. Although, I honestly don't mind. After rinsing the mask thoroughly, I let my hair soak-in all those precious oil residues overnight and simply wash my hair the following day. Ultimately all I'm left with is silky hair and a happy scalp. Big thumbs up on this product.
Clean Ingredients: Montmorillonite, Helianthus Annuus (Sunflower) Seed Oil, Prunus Armeniaca (Apricot) Kernel Oil, Prunus Dulcis (Almond) Seed Oil, Corylus Avellana (Hazel) Seed Oil, Persea Gratissima (Avocado) Oil, Simmondsia Chinensis (Jojoba) Oil, Lavandula Officinalis (Lavender) Flower Oil, Pogostemon Cablin (Patchouli) Leaf Oil
Morrocco Method recommends using the Mystic Hot Oil treatment for stimulating blood flow to the scalp, helping with hair growth and general hair and scalp maintenance. I can't speak to it's efficacy in terms of stimulating hair growth, but I really enjoyed the feel of massaging warm oil into my scalp and the deep conditioning effect left my hair noticeably silkier in the following days.
Rather than heating up the plastic bottle, I'd suggest pouring the oil into a metal measuring cup to warm it over boiling hot water in a ceramic bowl. Being careful not to burn yourself with the hot metal, massage the warmed oil into your scalp and work it throughout the hair until well coated. Although I intended to split the bottle into two treatments, all two ounces were needed to fully saturate my long hair and thoroughly coat my scalp.
After drawing a bath, I left the treatment on for over an hour to let the herbal oils fully penetrate and treat my hair and scalp with their beneficial properties. These plant oils have the ability to nourish the hair from roots to ends because the small molecular size of medium chain fatty acids in avocado and almond oils are able to penetrate the hair shaft and deliver with it precious nutrients needed to restore the hair to health and the resulting sheen. It's no wonder that I felt deeply comforted and nourished by the kiss of the warm oil on my scalp and delicious almond scent.
Clean Ingredients: Helianthus Annuus (Sunflower) Seed Oil, Prunus Armeniaca (Apricot) Kernel Oil, Prunus Dulcis (Almond) Seed Oil, Corylus Avellana (Hazel) Seed Oil, Persea Gratissima (Avocado) Oil, Simmondsia Chinensis (Jojoba) Oil, Lavandula Officinalis (Lavender) Flower Oil
Scrub Perfection & Refreshing Mist For Healthy Skin
This fine grained and wildcrafted Celtic Sea Salt Body Scrub is scrub-perfection. The ultra fine walnut shell powder is both non-toxic to the environment and the very best tool for sloughing off dead skin. Scrubs made with larger grained materials tend to irritate the skin and don't do a very good job of lifting up those dead skin cells.
The formula is loaded with a host of wonderful skin-nourishing oils that boast anti-inflammatory and moisturizing properties. I can confidently say that this scrub will leave your skin silky smooth and free of dead skin cells that can block pores – all without drying out the skin. I can attest to this because my skin easily dries out after a shower and I usually can't go without applying generous amounts of moisturizing oils after a bath. Yet, after using this oil based scrub, my skin was not left feeling taught after drying off! This was especially impressive.
The scent of the scrub is mostly characterized by the acetic aroma of Raw Apple Cider Vinegar. Although very mild, if you long for a more decadent aroma, just add your own mixture of essential oils. A few drops of lavender and ylang ylang made my scrub all that much more invigorating and luxurious. Most importantly – your skin will feel silky smooth and nourished!
Clean Ingredients: Aqua (Water), Aloe Barbadensis (Aloe Vera) Leaf Juice, Acetic Acid (Raw Apple Cider Vinegar), Juglans Regia (Walnut) Shell Powder, Butyrospermum Parkii (Shea Butter), Opuntia Ficus-Indica (Prickly Pear) Extract, Xanthan Gum, Montmorillonite, Salix Alba (White Willow) Bark Extract , Chondrus Crispus (Irish Moss) Powder, Tocotrienols (Vitamin E), Rosmarinus Officinalis (Rosemary) Oil, Salvia Sclarea (Clary Sage) Oil, Gaultheria Procumbens (Wintergreen) Leaf Oil, Boswellia Carterii (Frankincense) Oil, Maris Sal (Celtic Sea Salt), Jatropha Dioica (Dragonsblood) Powder
Last but not least, the Ocean Air Facial Spray is an excellent post-shower body mist. It comes in a generous four ounce bottle, and at $15 it won't feel too precious to use from head to toe. Like most Morrocco Method products, the scent is very mild. Despite the subdued scent, this mist consisting of healing essential oils and liquified quartz crystals in a base of St. John's Wort and water, can deliver inflammation reducing and other nutritive properties to the cells of your skin. For best effect, use after a hot shower, bath or facial steam when the pores are open and most receptive to the healing elements. Follow with a light layer of body oil to seal in the moisture and leave your skin deeply hydrated.
Clean Ingredients: Aqua (Water), Quartz crystals liquefied into a base of Hypericum Perforatum (St. John's Wort), Rosa Rubiginosa (Wild Rose) Oil, Santalum Album (Sandalwood) Oil, Boswellia Carterii (Frankincense) Oil, Commiphora Myrrha (Myrrh) Oil, Acacia Concinna (Shikakai) Oil, Lavandula Officinalis (Lavender) Essential Oil