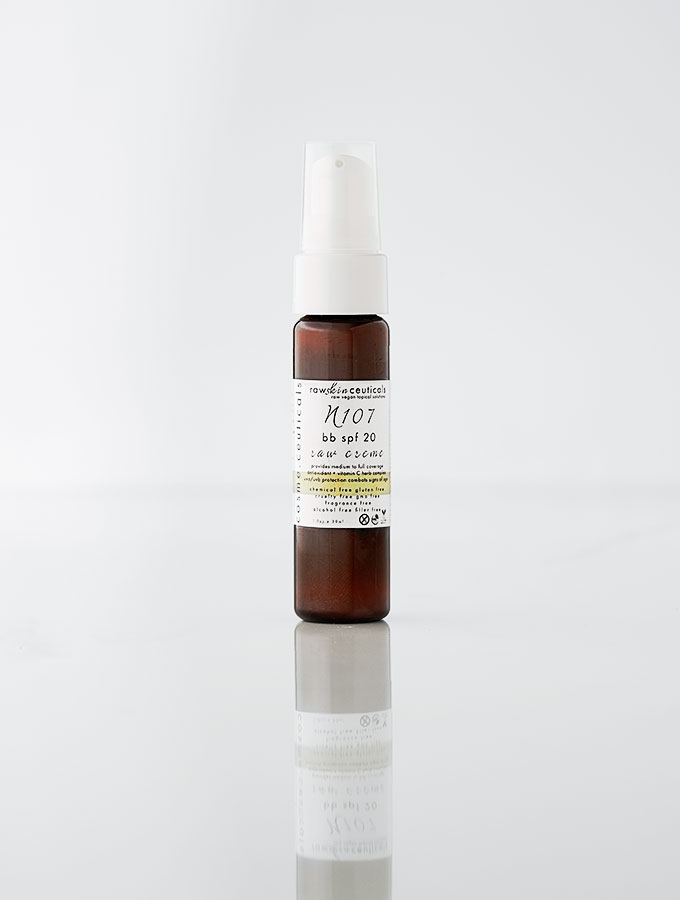 The very best Raw Creme Foundation for everyday flawless skin
I mean it, this is simply the world's best creme face foundation. Period. Regardless if you're comparing leading natural make-up lines, or toxic drug store brands, RawSkinCeuticals' Raw Creme Foundation does a better job. The packaging is a little home made, and the website a little bit hard to use, but I promise that once you try this foundation you will never go back.
Despite having dabbled with other sexier brands like RMS, for over seven years now I've always found myself coming back to RawSkinCeuticals' Raw Creme Foundation.
Other than the fantastic, super clean ingredients, what keeps me coming back is:
Doesn't cake on
Doesn't accentuate wrinkles
Doesn't clog pores
Creates an even skin tone
Skin texture looks natural
Beautifully formulated natural looking skin tones
Thick enough coverage to cover up skin discoloration
Effective, non-toxic sun protection (Titanium Dioxide & Zinc Oxide)
Keeps well throughout the day, only looking more natural
Certified Organic, natural, non-toxic ingredients
When I found this foundation it was like a miracle, I'd had the very unfortunate experience of being burned with a "natural" Kojic acid peel at the hand of an irresponsible aesthetician. As a result the incident aged the skin around my eyes by at least a decade if not more. Needless to say, it was devastating.
At 33 years old, I went from looking nearly 25 to looking 45. The dark spots the aesthetician was trying to burn off remained, but they were now covered with deep wrinkles and tiny pock marks.
Crow's Feet No More
Prior to this event because the skin around my eyes was perfectly smooth I could easily cover up the dark spots caused by birth control, Acutane or both, with light weight natural foundations. But now all the natural foundations I found in stores like Whole Foods would get into those wrinkles and make them look like pronounced crow's feet.
I don't remember how I came across RawSkinCeuticals, but thankfully I did, and as my skin healed and improved over the years I've been able to feel confident with the coverage I was able to achieve with this miracle foundation. It was and remains the only natural foundation that doesn't make my wrinkles more pronounced, but rather gives me a fresh and even skin tone!
Your First Order
The tricky bit is matching your skin tone, but despite the somewhat clunky website, the customer service is amazing. This is a small company and if you call the customer service line you may very well find yourself chatting with Dane, founder and owner of the company. For a $12, Dane will hook you up with a small collection of generously packaged samples, and in no time you'll have found your exact match.
RawSkinCeuticals' skin tones are the most natural and nuanced I've ever experienced. If I blend into my neck, there's simply no trace of difference between my skin and the foundation. I'm generally much more tan during the summer than the winter, so I use a couple different shades for different seasons and always have a perfect match.
At $25 per bottle it's quite affordable, especially given that the bottle will likely last you 4-6 months. On top of the already affordable price, I often take advantage of their whopping 50% off sales around the holidays. No I'm not an affiliate, though I wish I was!
To give you point of reference for color, I have a light olive skin tone and Cosme.Ceuticals Creme Foundation C107 is flawless on me when I'm lightly tanned. You would never guess it from their skin tone graph, because C107 looks quite dark. The key is to start with a range of samples, and there's not a chance you'll look like the carrot colored woman in the top banner of the RawSkinCeuticals website! I promise.
While you're there, you can also try their Gluten Free Mascara for $18. The ingredients in this mascara are some of the best. As far as gluten free mascara texture goes, it's the usual experience: a light coat.
Clean Ingredients
Active SPF Ingredients:
8-12% Blend of Non-Nano Titanium Dioxide and Zinc Oxide
Base Ingredients:
certified organic aloe leaf juice
certified organic cold pressed unrefined rosehip seed oil, certified organic cold pressed unrefined mango butter, certified organic cold pressed unrefined hemp seed oil, certified organic cold pressed unrefined tamanu oil, certified organic cold pressed unrefined pumpkin seed oil, certified organic cold pressed partially refined evening primrose oil, certified organic cold pressed unrefined avocado oil, cetyl-stearyl alcohol (coconut and palm derived)
Proprietary vitamin C herb complex blend:
certified organic chrysanthemum, certified organic helichrysum flowers, certified organic orange peel, certified organic rosehips, certified organic eyebright, certified organic acerola cherry, certified organic cleavers, l-ascorbic acid (vitamin C) preservative blend: potassium sorbate usp, citric acid mineral oxides for color
Cosme.Ceuticals Creme Foundation
$25
Organic non-toxic ingredients
10.0/10
Doesn't clog pores
10.0/10
Natural skin tones
10.0/10
Non-toxic sun protection
10.0/10
Pros
Skin texture looks natural
Doesn't accentuate wrinkles
Creates an even skin tone
Keeps well throughout the day, only looking more natural
Thick enough coverage to cover up skin discoloration