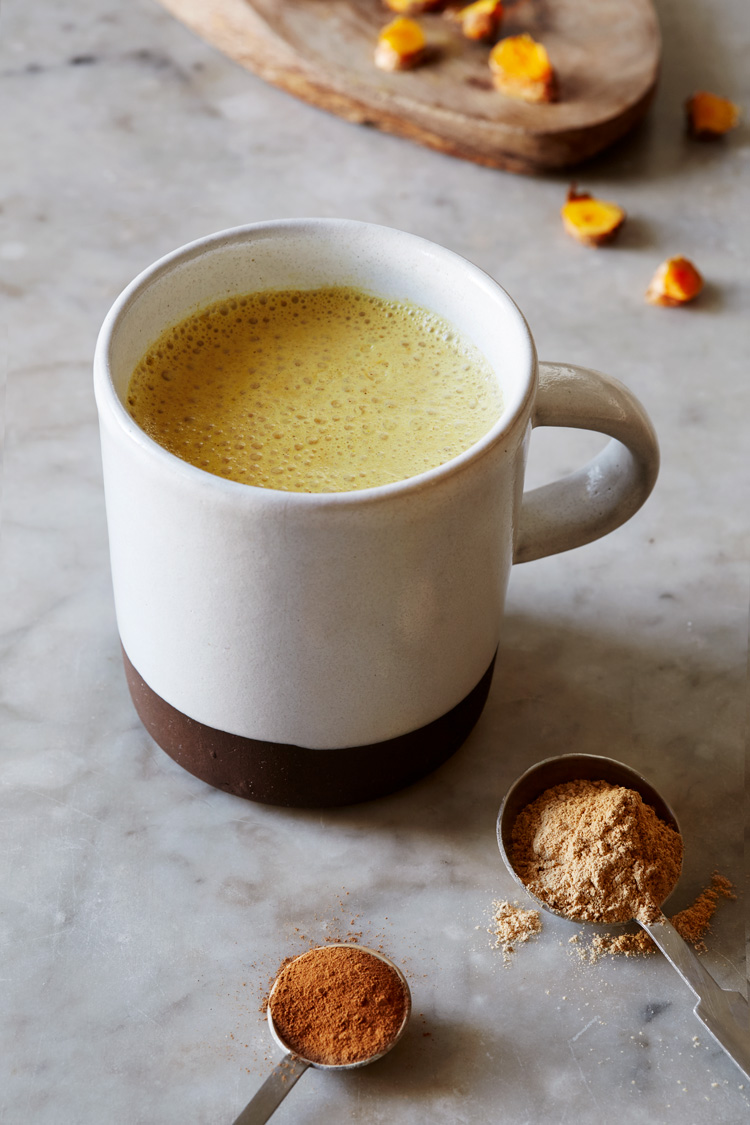 A cup of turmeric infused decadence
The season for warming drinks is upon us and I'm certain that you're going to be head over heels for this golden, turmeric infused, immune supporting brain-food latte! However it's tweaked to your preferences and dietary needs, this turmeric latte is bound to become a favorite warming drink to cuddle up with this autumn.
The Ingredients
It's just as good made with your favorite nut milk, as it is with whole raw milk. If you choose to make it with a dairy-free milk, MALK is the cleanest and my personal favorite store bought dairy free milk. It's the only milk I've found that meets all my criteria: all organic ingredients, using sprouted nuts and free of chemical additives.
You'll notice that a few ingredients are marked as optional: ghee, Vital Proteins Collagen Pepetides and Hanah One, or Banyan Botanicals Chyawanprash. For a recipe that requires so few ingredients, that may seem like high proportion to potentially omit.
The main ingredients needed to make this frothy cup of turmeric infused decadence, include:
turmeric (preferably the fresh root)
milk (of choice)
a healthy saturated fat (which can consist of just coconut oil)
gelatinized maca (steer clear of RAW maca for this recipe)
cinnamon
raw honey (this can be skipped or substitute with a Medjool date)
For the tastiest and frothiest version of the drink, make it with these basic ingredients, preferably including a spoonful of ghee and a splash of Rose Water.
Rose Water
If you can get your hands on a bottle of Rose Water you will have yourself a most extraordinary cup of delight. A turmeric latte to top all turmeric lattes. The drink can of course be made without the fragrant water, but if you'd like to hunt a bottle down, try your local Middle Eastern grocer, or stores like Whole Foods
Maca
Be sure to use gelatinized maca for the health of your thyroid. Maca needs to be heated to neutralize its goitrogenic properties. Peruvian cultures have historically always fermented maca to eliminate these properties that promote hypothyroid.
Collagen peptides + Chyawanprash
Collagen peptides and chyawanprash are both specialty supplements that will add valuable health benefits to the mixture if you choose to add them. But the base ingredients alone will supply you with immune building and brain boosting benefits, on top of being the tastiest thing ever.
I will say however, that when taking the turmeric latte with a spoonful of HANAH ONE I've experienced a noticeable improvement in mental clarity while putting in long days of studying. It's been quite helpful in managing the lengthy sessions of sometimes mind-bending coursework in Organic Chemistry.
Learn more about this botanical supplement and its root Ayurvedic medicine chyawanprash in my post HANAH ONE: A DELICIOUS SPOONFUL OF ANTIOXIDANTS. Or you might consider trying Banyan Botanicals chyawanprash, where you can also shop for a wonderful assortment of organic Ayurvedic herbs and oils.
The Blender
The making of this drink breaks one of my cardinal rules: putting a hot liquid into plastic. For those that are as vigilant about keeping hot and acidic foods away from plastic containers, blend the mixture first and heat gently afterwards.
Unfortunately the frothy texture is best when made the other way around. Since I'm so careful with limiting my exposure to plastic, I give myself a pass with this drink and transfer the latte to a cup immediately after blending.
If you don't have a professional grade blender, consider going with a Blendtec. I've had mine for about 8 years now and it's still going strong despite daily use! I had recently considered upgrading to a Vitamix for greater control with slow blend settings, but found that there had been unresolved issues with black bits of synthetic sealant contaminating food. Perhaps they've resolved the problem, but definitely give Blendtec a fair chance when making your decision.
Learn more about why it's important to be careful with plastics in the kitchen – BPA free or otherwise, in the second portion of this post: