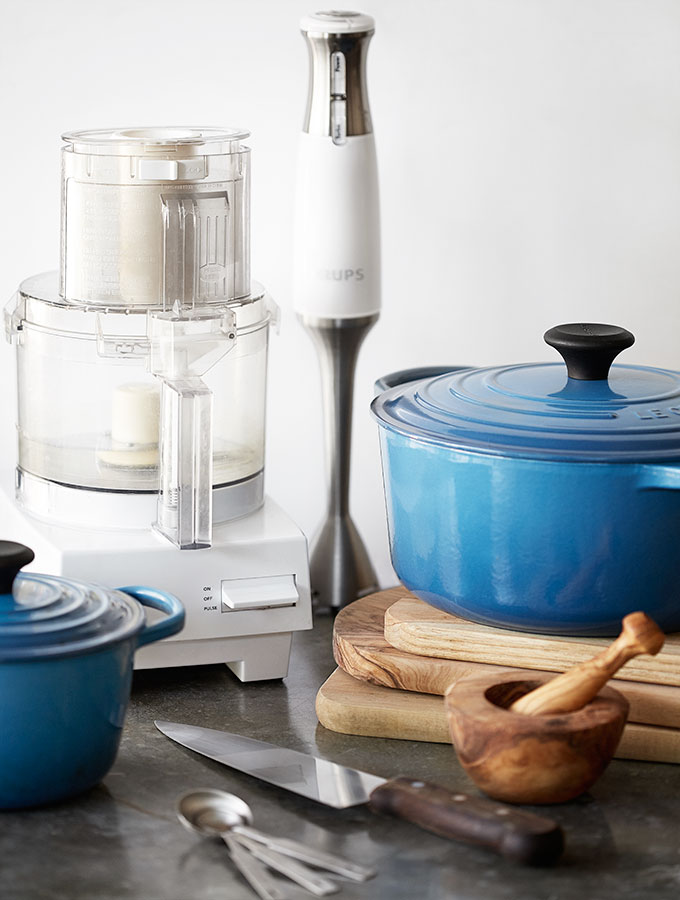 Easily whip up healthy meals with this fine tuned arsenal of kitchen tools
If you're a seasoned cook this list of indispensable kitchen tools may inspire you to upgrade a thing or two, but if you've only recently begun your journey with making homemade meals, it can help you hone in on and budget for the most needed essentials.
I've attempted to list various retailers offering you the best prices I could find. Surprisingly William Sonoma's prices sometimes rival Amazon's, but you can get 15% off your first online order at William Sonoma. If you plan on ordering a big ticket item or two, the discount could make a big difference!
1. Mandoline Slicer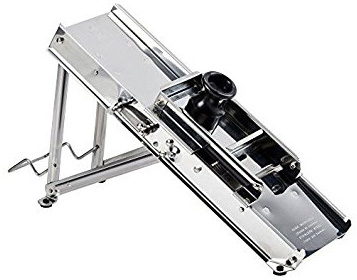 This low cost tool will save you an enormous amount of sweat and toil while prepping veggies.
My extremely basic mandoline has served me well for about 8 years. It may not be sexy, but to its credit the blade is still sharp and has held up to a fair amount of use.
Below are a few healthier stainless steel options that I'll be choosing between when I upgrade.
Pronto Kitchen Stainless Steel Mandoline Slicer – $31.47 on Amazon Prime.
Bron Original Stainless Steel Mandolin Slicer – $119 on Amazon Prime.
Bron Stainless Steel Mandoline – Just $79 + free shipping on Wayfair!
OXO Steel Chef's Mandoline Slicer – $99 at Bloomingdale's.
2. Microplane Zester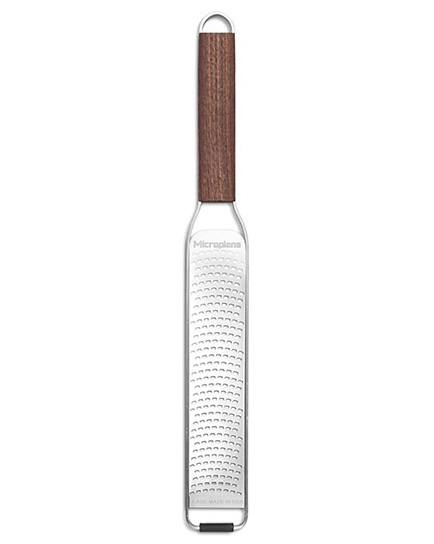 Lemon and lime zest is one of my favorite ingredients to cook with, so I get a lot of use out of my microplane. They are also terrific for garting ginger and nutmeg!
Microplane Flexi Zesti Citrus Grater Zester – At $17.99, it's absurdly pricey for a plastic gadget, but the fact that it catches hard to scoop zest, is priceless.
Microplane Flexi Zesti Citrus Grater Zester  – Solid and basic, $9.95 at Sur La Table.
Microplane Gourmet Series Fine Grater – $16.99 at Bloomie's, a great add on if you plan to take advantage of their $25 off every $100 sale.
Microplane Master Series Zester – This beautiful 100% USA made stainless steel and walnut zester is worth every penny at $26.95. Sold for the same price on Amazon Prime.
3. Milk Frother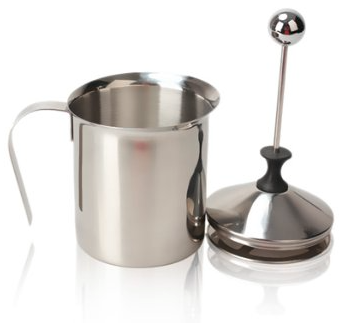 If you love micro-foam topped lattes as much as I do, you are about to step through the doors of micro-foam paradise.
It's no matter if you have one of those buzzing electric frother wands. Don't wait for the motor to die – you know it will. Put it on the back shelf or donate it, and get yourself this primo manual frother.
The canister doubles as the perfect vessel for immersion blender mouses and dips. Just make sure your milk has been brought to a light simmer before frothing. It will not work with cold milk.
Vktech 800ML Stainless Steel Double Mesh Milk Frother – For just $15.99 on Amazon Prime, it will last you many years, and rest assured, all parts that come into contact with food are 100% stainless steel.
4. Mortar & Pestle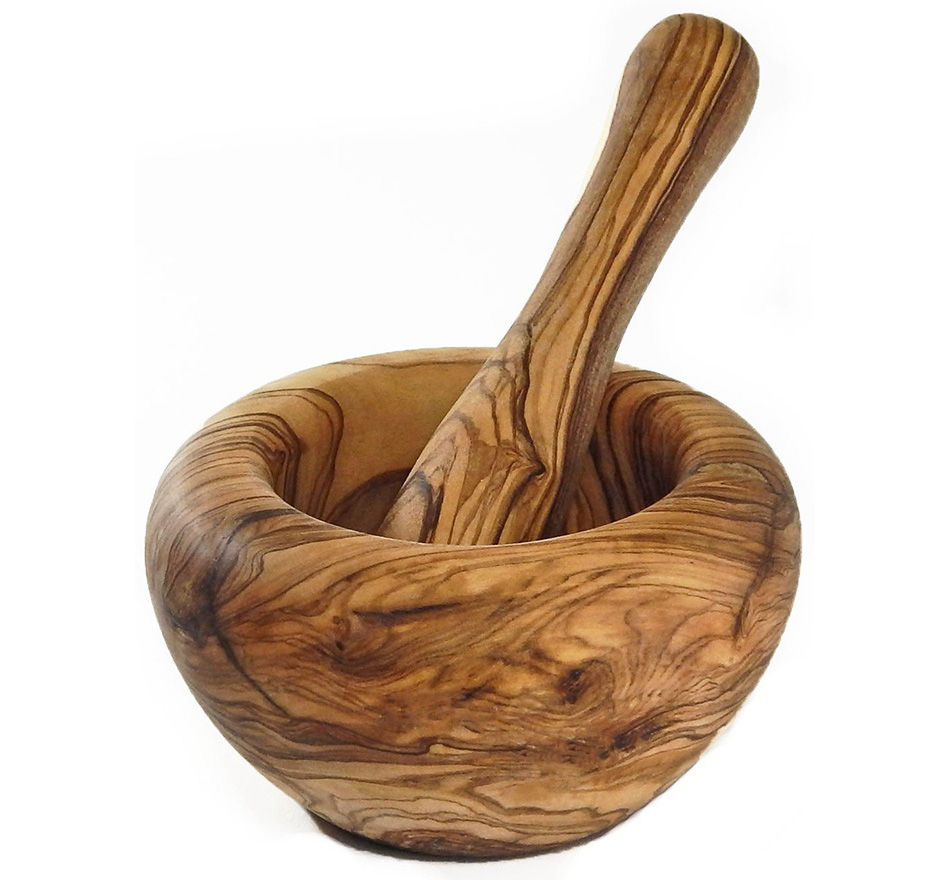 There's nothing like fresh ground spices to infuse a dish with intoxicating aromatic flavor. I use my mortar and pestle daily and although I have a new olive wood set from Italy, my favorite is an old hand me down from Poland.
It's very similar to the first of the below choices, in that it has a deep and narrow shaft. This way the pestle makes a seal and prevents hard spices from jumping out of the mortar.
Olive Wood Mortar and Pestle – Great for grinding hard spices and seeds and a deal at 17.95 on Amazon.
Le Souk Olive Wood Mortar & Pestle – This olive wood set is made with wood form olive oil production tree that are no longer fruit-bearing. It's a beautiful and ecological set that goes for $36.09 on Amazon.
5. A Set Of Good Knives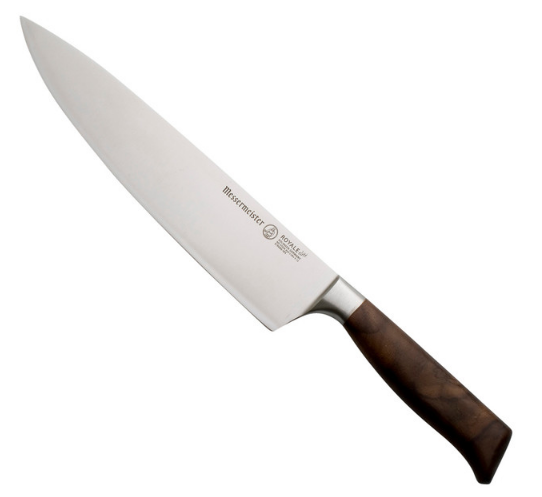 Opinel or Victorinox are going to be your best bet for affordable good quality knives. Opinel is made in France, while Victorinox are forged in Germany. Both brands are made with good quality materials and sell for a fraction of the price of brands like Messermeister or Wusthof.
If you can spend the few extra bucks, opt for Victorinox, and get a minimum of one chef's knife and one paring knife.
Opinel 20 cm Multi-Purpose Chef's Knife (7.9″) Just $35.00 on Amazon Prime.
Victorinox 8 Inch Rosewood Chef's Knife – Just $49.49 on Amazon Prime!
Victorinox 3.25 Inch Rosewood Ergonomic Paring Knife – $19.95 on Amazon, but worth the extra few bucks for a handle that makes paring foods so much easier.
Victorinox Rosewood 7-Piece Knife Set – Such a great deal at William Sonoma for $199.00. If you're starting from zero, this is your set. Or get it for $209 on Amazon.
Wusthof Classic 8-Inch Chef's Knife –  A high quality knife for $119 on Amazon.
Wusthof Classic 2-Piece Chef's Knife Set – But if you're ready to invest in Wusthof, I'd consider getting this set for $169 at Dillards.
Messermeister Royale Elite 2 peice 8″ Chef's & 3.5″ Paring Knife Set – And if you're ready to take your prep to the next level, this Messermeister chef's knife goes for $199 on Amazon Prime.
6. Wooden Cutting Boards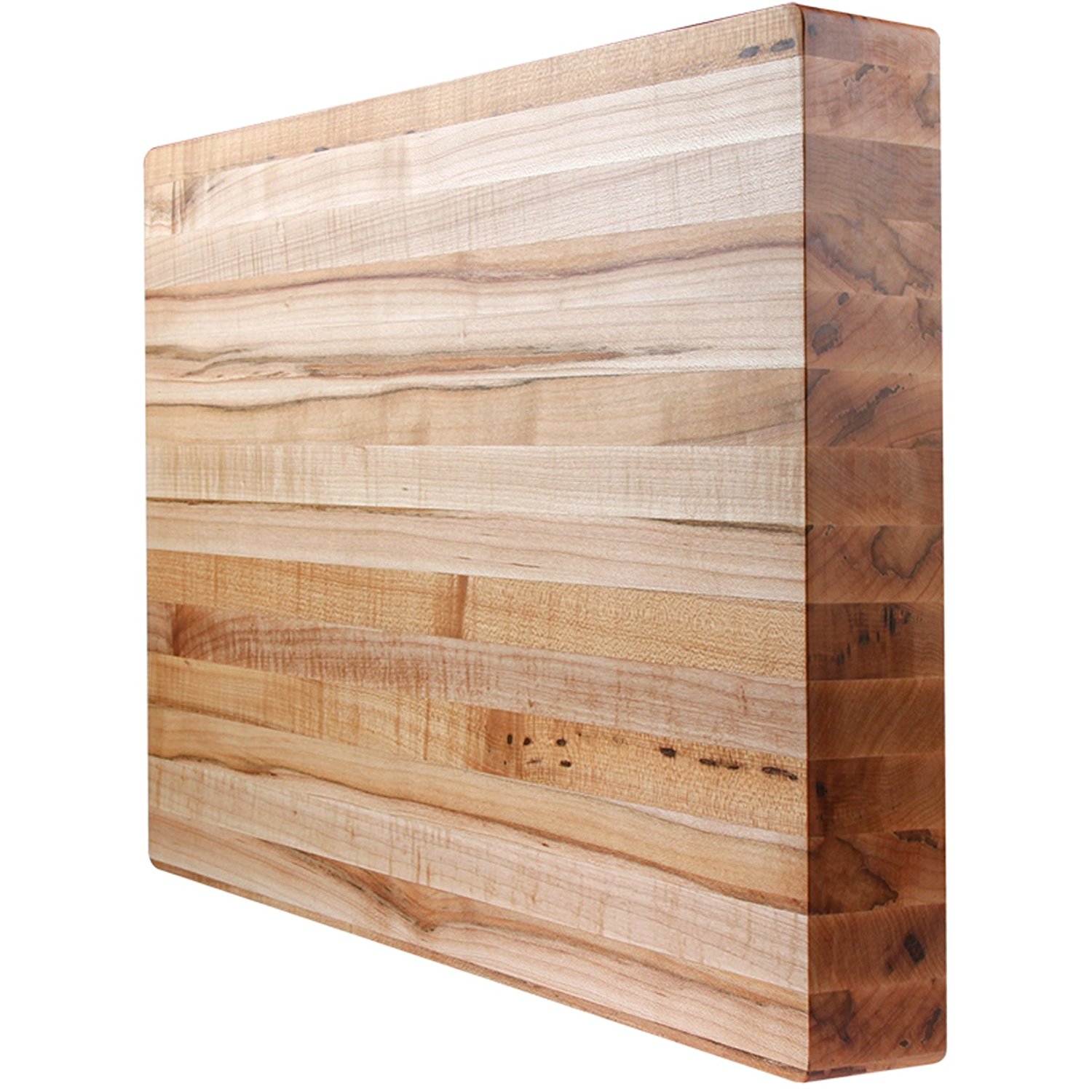 Plastic cutting boards are bacteria factories and create opportunity for unnecessarily contaminating food with chemicals.
Wood on the other hand is naturally an antibacterial material. Wood is the gold standard for healthy chopping block material, but cheaper Organic bamboo is terrific for beefing up your cutting board collection.
I recommend starting off with one large, roughly 20 inch, wood cutting board and a set of small Organic bamboo boards. Be sure to wash them thoroughly to remove any potential mineral oil residues (a.k.a. petroleum), and follow with a cooking oil and/ or Organic Beeswax treatment to keep your boards from cracking and warping.
Kobi Blocks Maple Butcher Block – For $69.99, this beautiful 12 x 20 x 1.5 inch American made cutting board is a steal!
Non-Slip Premium Moso Bamboo Cutting Board Set – This versatile 3 piece Organic bamboo set of small cutting boards will only set you back $12 on Amazon.
Boos Edge-Grain Carving Board – This 24 x 18 x 2 inch American made board goes for $179 at William Sonoma.
Kentucky LiveEdge Cutting Boards – Handmade in Kentucky, these boards are free of glues and made from single slabs of reclaimed wood. They double as rustic serving boards! Get Kentucky LiveEdge in these sizes:
7. Glass Storage Containers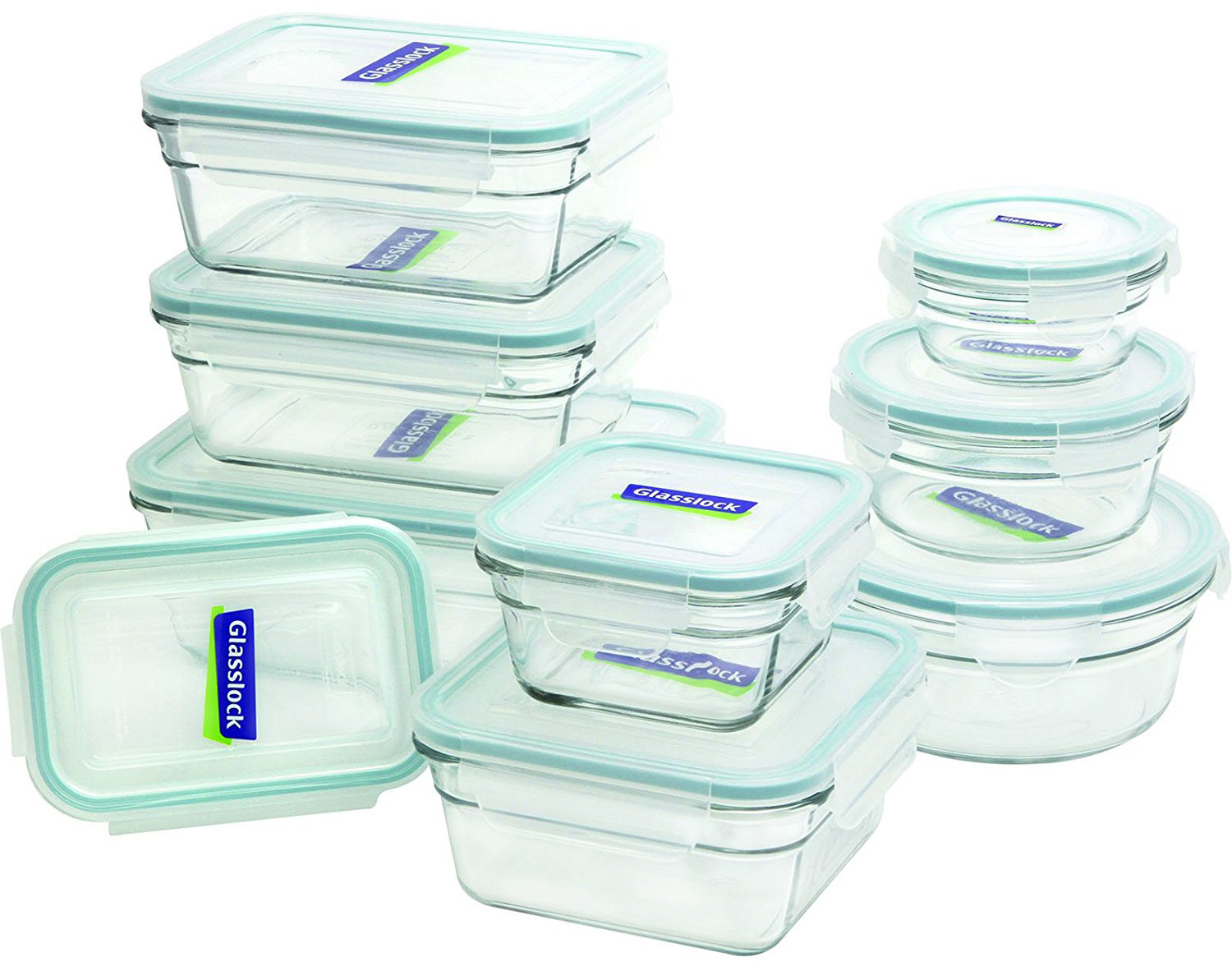 GlassLock containers are something I could not live without. They're perfect for storing cooked or raw foods, and serve as the perfect portable lunch containers.
If you're as frustrated as I am by the plastic lids, simply use sheets of Unbleached Parchment Paper to line the lid. See this post on Best Food Storage Techniques for a visual on how it's done.
GlassLock 18-Piece Assorted Oven Safe Container Set For an unbeatable price of $35, this set will meet most of your food storage needs and last for ages.
Kinetic GoGreen Glassworks 44-Piece Oven Safe Container Set – If you want a massive set of containers, this is the deal for you at $108 from Overstock.
Weck 900 Tall Mold Jars – If you prefer all glass Weck Jars, get a set of six 16 oz jars on Amazon for $20.30.
Weck Tulip Jars – Get a set of six 35 oz Weck jars for $29.95 on William Sonoma.
Evak Glass Food Storage Set – If you're serious about keeping your dry goods from going rancid, invest in this glass vacuum-seal storage set for $120 at AHA.
8. Immersion Hand Blender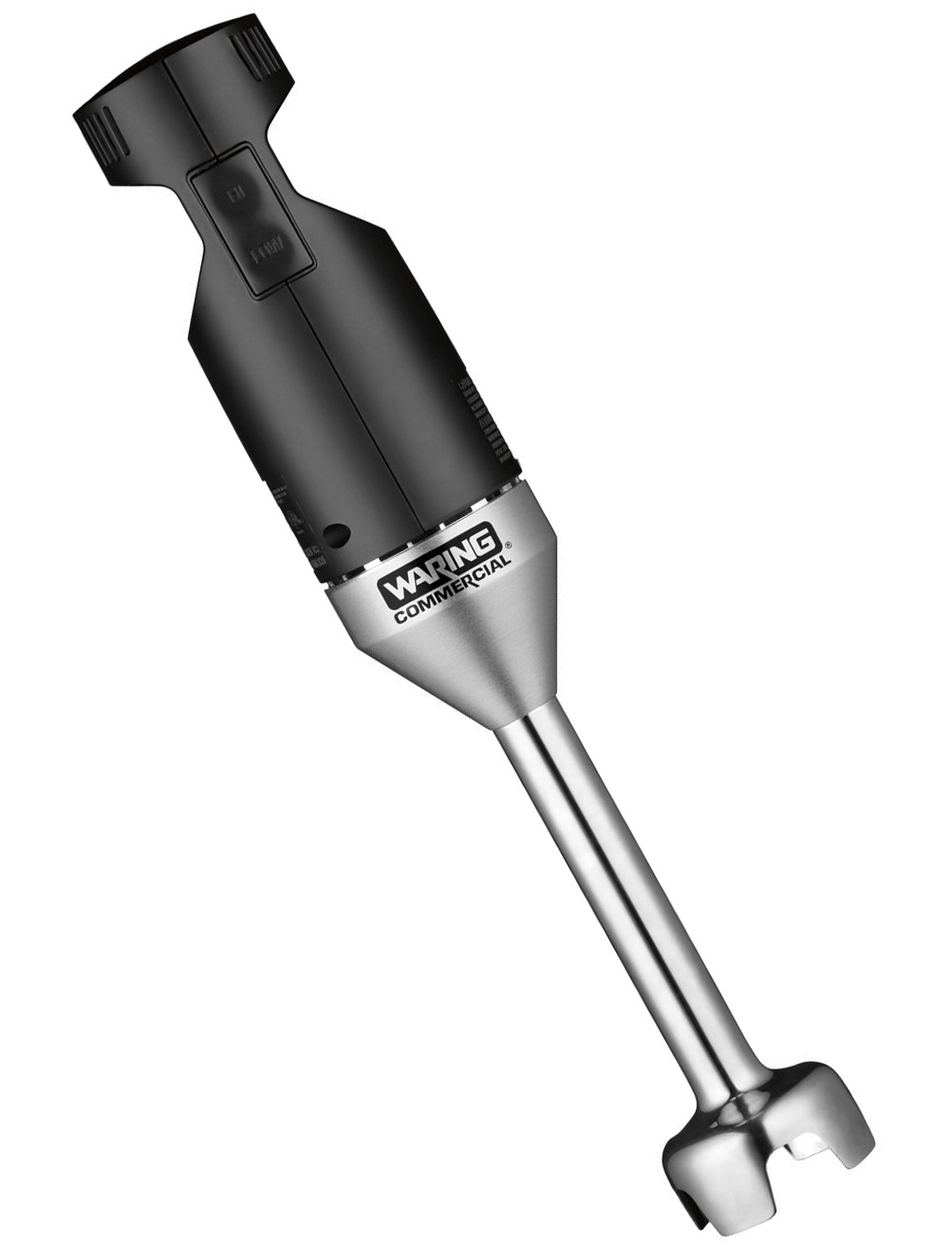 I use my immersion hand blender on a nearly daily basis. It's the perfect tool for blending hot dishes or desserts like Chocolate Avocado Pudding or Better-Than-Nutella Butter.
I have owned many of these, including a fabulous %100 stainless steel Waring that I'd purchased for $120. After my pricey, prized Waring died, I ended up going through a KitchenAid or two, and ended up with the Krups you sometimes see in my process shots. Although it's lasted a few years it's just OK, and like so many affordable steel or chrome hand blenders, has a small plastic plate below the blade.
If you're in the market for a hand blender I urge you to spend a little more and get the Waring Quick Stick with %100 stainless steel wand.
Waring Light-Duty Quik Stik Immersion Blender – 100% stainless steel wand and pro power for $67.99 on Amazon.
Stainless Steel Milkshake Cup – A helpful tool when whipping up small batches.
9. High Powered Blender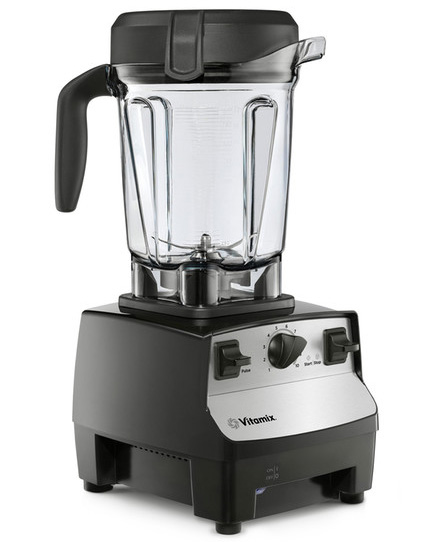 A Blendtec or Vitamix blender is a must have if you plan on making creamy dressings and smoothies.
Although Vitamix has a certain cache to it, and there are benefits to the manual control settings and tamper, models made in recent years have had some issues with faulty parts and premature breakage.
I've had my Blendtec for nearly 8 years now, and despite daily use, the workhorse is powerful as ever. No "black bits" have ever contaminated my food, nor have I had any other issues. I won't blame you if you want to go with a Vitamix, but you'd be wise to give Blendtec a fair chance when making your decision. Below are some great options for a less pricey investment for both brands.
Blendtec Wildside – Buy direct from Blendtec for the best promo deals. And almost always 30% off Blendtec Certified Refurbished Blenders.
Blendtec Classic 575 Blender with FourSide™ Jar – Just $399 at JC Penny for a brand new model.
Blendtec Total Blender with WildSide Jar (Refurbished) – Just $239 at Overstock!
Vitamix Professional Series 750 Heritage Blender – $599 at William Sonoma.
Vitamix Certified Reconditioned Blender – Just $279 at William Sonoma!
Vitamix Professional Series 300 64-Ounce Blender – $529 at Bloomie's.
Vitamix Professional Series 300 64-Ounce Blender – And $478 on Amazon Prime!
10. Food Processor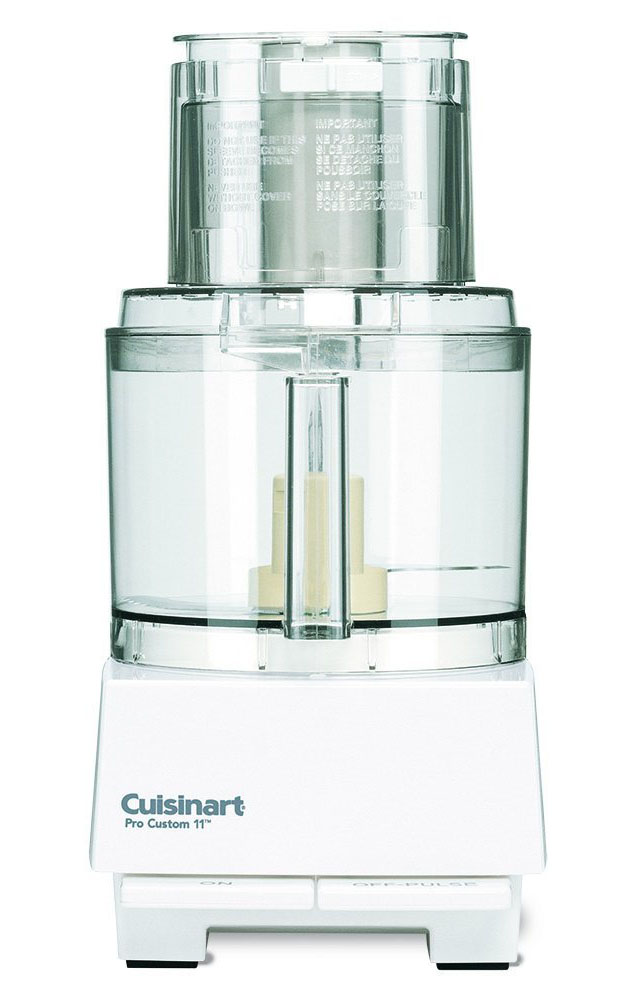 There are quite a few tasks, like making pestos, emulsifying oils and chopping veggies, where blenders don't cut it and a food processor is necessary for the job.
I have a 7 cup Cuisinart Pro Classic model, and based on my experience I'd recommend going with an 11 cup. Because of the way food processors are designed, if you're working with a liquid mixture it quickly lacks capacity. I really like the ease of use and simplicity of the classic, but will likely go with the Elite Collection when I upgrade to the 11 cup.
Cuisinart 11-cup Elite Collection Food Processor – Eleven cups for just $138!
Cuisinart Pro Custom 11-Cup Food Processor – Just $129 on Amazon Prime!
Cuisinart Prep 11 Plus 11-Cup Food Processor – $135 on Amazon Prime!
Cuisinart Prep 11 Plus 11-Cup Food Processor – A whopping $179 on Gilt, if you can't get it on Amazon.
11. Le Creuset Essentials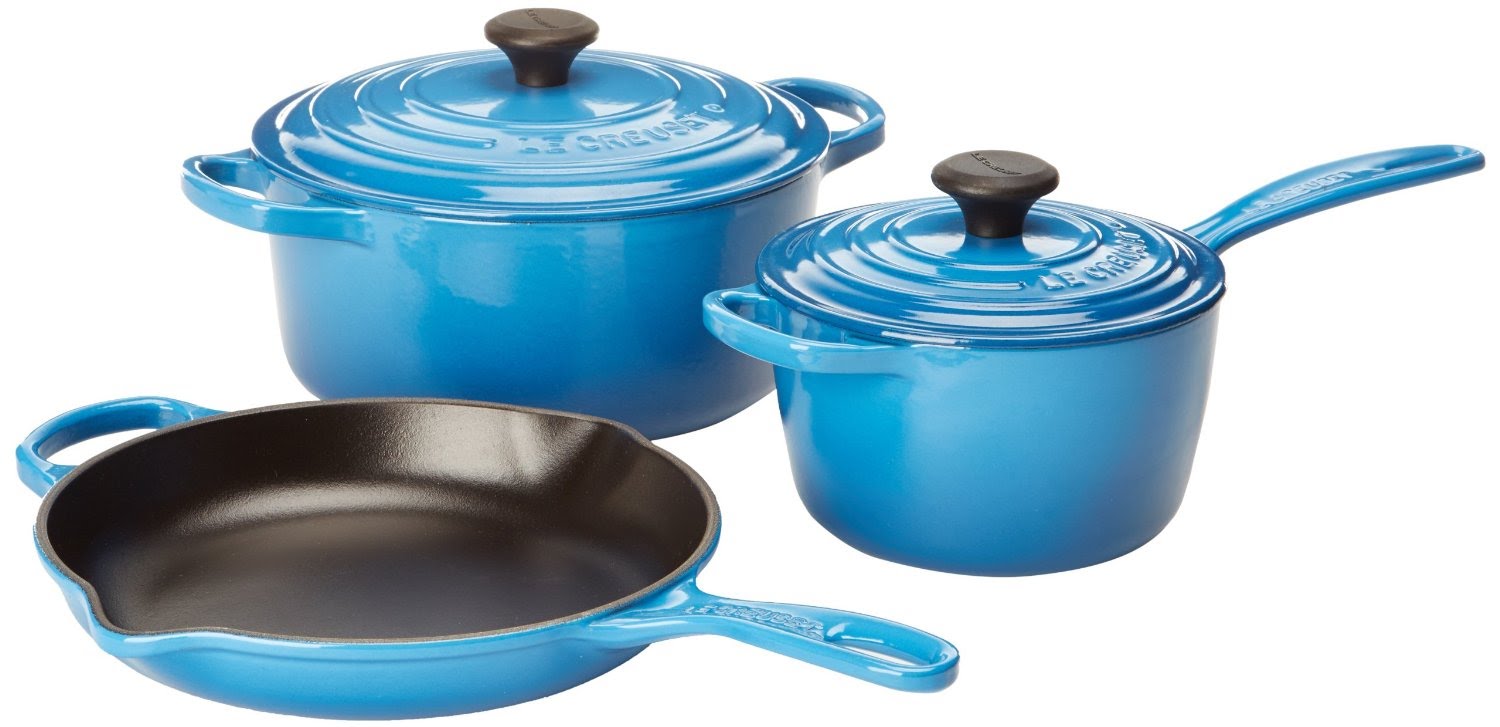 You could of course invest in a complete set of Le Creuset Signature cast-iron enameled cookware, but if you're on a budget the Enameled 5.5 Quart Round French Oven and Signature Iron Handle Skillet are the two essentials I'd recommend investing in to start.
I use these two pots nearly each day. That means that at $164 over the course of just 1 year, the pan has cost me 45 cents per day. High quality kitchen tools can be expensive, but putting the cost into perspective can make it feel like a much more reasonable purchase.
When it comes to pots, it's no exaggeration to say that your health is at stake. Unfortunately stainless steel pans – nearly all of which are made in China – are made with alloys, which means that you can never know exactly what metals might be leaching into your food. Especially once the pots have been scratched. Signature Le Creuset pots on the other hand will not imbue your foods with any toxins. Invest in these two pots, and you'll be off to a solid start.
Le Creuset Signature Iron Handle Skillet – 10-1/4-Inch – $164 on Amazon Prime
Le Creuset Signature Iron Handle Skillet – 10-1/4-Inch – $164 at Nordstrom
Le Creuset Signature 5.5-Quart Round Dutch Oven – $329 on Amazon Prime
Le Creuset Signature 5.5-Quart Round Dutch Oven – $330 at Bloomie's, great customer service, free returns and shipping.
Le Creuset Signature 5-Piece Cast Iron Cookware Set in Palm – The best deal! $449 for the three Le Creuset essential pots.
Le Creuset Signature Cast-Iron 5-Piece Cookware Set – $599 for the three essential pots in your choice of color – plus 15% off on your first online order!
Le Creuset Signature Cast-Iron 8-Piece Cookware Set – $950 at William Sonoma.
12. Water Filtration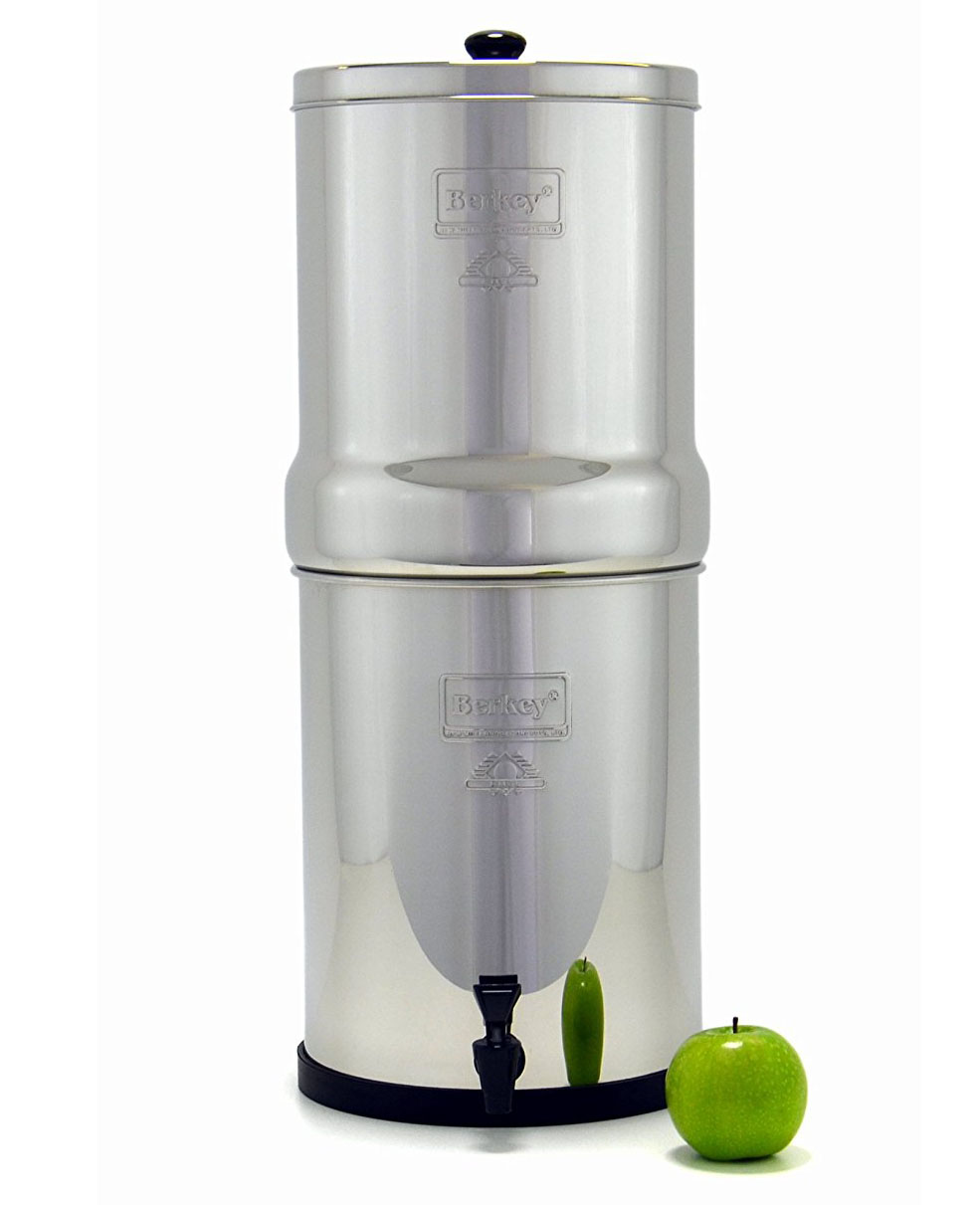 Clean water is non-negotiable for a healthy lifestyle. You'll be best off if you can afford a whole-house filtration system, but if you need to stick to a faucet or countertop system, Berkey or Aquasana's countertop options are the place to start. Both systems will provide you with clean drinking water for a small fraction of the cost.
I've owned several models of Aquasana countertop and shower filters, awhile living in NYC, LA, and parts of Maine where the water supply had issues with certain contaminates. I've experienced first hand the remarkable difference in water quality – including the complete removal of a foul rotten egg smell!
I've questioned both Berkey and Aquasana, and the two companies conceded that their filtartion systems result in roughly similar water quality. The choice is a matter of aesthetics and budget.
Big Berkey BK4X2 Countertop Water Filter System – For $288.50 on Amazon, this attractive gravity fed system comes with 2 Black Berkey Elements and 2 Fluoride Filters, and requires no power to operate.
Aquasana Countertop Pitcher Filtration We have this system right now and can taste the difference in our LA tap water. This gadget is loud, but pumps the water through quickly for filtered water at a moment's notice. It'll run you $129, but you can most likely activate a 30% off coupon when signing up for the mailing list.
Aquasana Countertop Faucet Filtration I had this system previously and I would recommend it over the pitcher system if it works with your faucet. You can also get it for under the sink. This system is just $57 right now! On sale from $129. A steal for 6 months of clean water, at which cartridges cost $50.99 to be replaced. If you live in NYC or another city with old pipes, ask about the pre-filter system.
Salt-Free Softener and Whole House Water Filter For just $1981.65 you can filter the water in your whole house. This UV system will filter 10 years or 1,000,000 gallons of water!
Top 12 & a couple more
That's it for the tools I absolutely can't do without, but I'd feel incomplete if I didn't included these couple of extra favorites.
SaveSave
SaveSave
SaveSave
SaveSave