Eating my way through Copenhagen was a gluten free, organic piece of cake
If you follow me on Instagram, you probably noticed my recent food focused travels through northern Europe. Our nomadic journey began in the city of Oslo, then Amsterdam, with a wistful end in Copenhagen.
My husband's primary mission was to seek out art and architecture, while my main interest was of course getting to know the food culture and the state of attention focused on wholesome organic ingredients. Of all three cities, Copenhagen seemed to offer the most options for gluten-free and organic foods and dining experiences.
This was especially obvious in Nørrebro, the neighborhood where we stayed, which is a bit like what Williamsburg is to New York City. And we were glad that we picked an Airbnb flat located just a couple blocks away from the trendy Jægersborggade strip–a charming street teeming with drool inducing design shops and delicious organic food options.
The neighborhood requires hopping on a bike or a bus if you need to get to the subway or center of town in a hurry. Personally when visiting a city I prefer to stay in a neighborhood with good, local food and travel to the more touristy sights, rather than the other way around, so it didn't bother me one bit.
The last thing you want to do after a long day of sightseeing is travel a long distance for dinner, or worse, get stuck with bad tourist food. Hop on one of their city bikes and off you go!
Foodie Highlights
Must-Try
SAY – Concept Store
We found SAY on a Nørrebro business map, with a byline that promised L.A. vibes and kombucha. Curious to try the local kombucha and to see the Danish interpretation of our hometown of L.A., we eagerly made the trek down Jagtvej, a big avenue we wouldn't have explored otherwise.
SAY turned out to be my favorite Nørrebro discovery. Not just because of the well curated collection of clothing and design goods accompanied by an espresso bar. Nor because Emil and Josefine, the couple who own and operate the shop, were some of the most wonderful people we met on our trip. But because in addition to all that, it turns out that they're one of the only sources for kombucha in Copenhagen, complete with a kombucha bar, stainless steel fermenting barrels and organic ingredients.
Be sure to give them a visit if you're in town! Emil and Josefine are in the process of experimenting with Jun (another effervescent fermented tonic) with a scobby delivered to them by a fan all the way from China. Perhaps you'll be able to enjoy some Jun in addition to Danish kombucha, and a shot of espresso while you're at it. Brace yourself.
Papirøen
Another non-negotiable must see/ do/ eat in Copenhagen is Papirøen, a.k.a. Paper Island. This massive warehouse full of food stalls is the most impressive "street food," or food truck, gathering I've ever seen. What's better, is that it's a permanent installation!
There are plenty of organic and gluten free options here, running the gamut of healthy to indulgent. When we passed through it was either after dinner or before, so sadly I only got to try an ice cream and green juice stall, but the options are nearly limitless. If you love food as much as I do, you must visit this place.
Torvehallerne
Torvehallerne is yet another food hall, but not so much for street food, as for delicacies and gourmet, organic groceries. You'll find plenty of prepared foods and restaurants for a quick meal in this market setting as well, so it's a good place to get lunch closer to the center of town.
Again, we were passing through after our lavish breakfasts, so all I got to try was some excellent organic chai tea, green juice and the classic Danish egg white treat by Summerbird. The chocolate covered, egg white & sugar dessert was too sweet and bland for my taste, but, when in Denmark, seemed like a necessary investigation.
If we were staying in Copenhagen long enough to want to cook our own meals, I'd definitely frequent this market for some of my groceries. The meat and seafood vendors were especially enticing.
Møller – Kaffe og køkken
Møller is a must try even if you're not staying Nørrebro. With a tapas concept menu it was super easy to order a naturally gluten free breakfast (or lunch). But the menu also offers some delicious quintessentially Danish treats like waffles and Oellebroed, a cream topped, beer soaked, bread porridge, for your gluten loving travel companion.
According to my husband the porridge was as amazing as it sounds. For those of us that are dining gluten free, the "Baked Jerusalem Artichokes, with sour cream, grated lemon peel & green oil" were also a delicious side to either of the egg options – all of which were really tasty. As for meats, we only sampled the bacon, which was especially good as bacon goes. There were plenty of other little dishes we wanted to try, but with only so much space in our bellies we couldn't get through too much on the menu in a couple days.
Whatever your food preferences, the cayenne ginger shot and fresh pressed juices are a must. The place is really a wonderful way to start your day. The one thing to beware of is that these little dishes add up fast!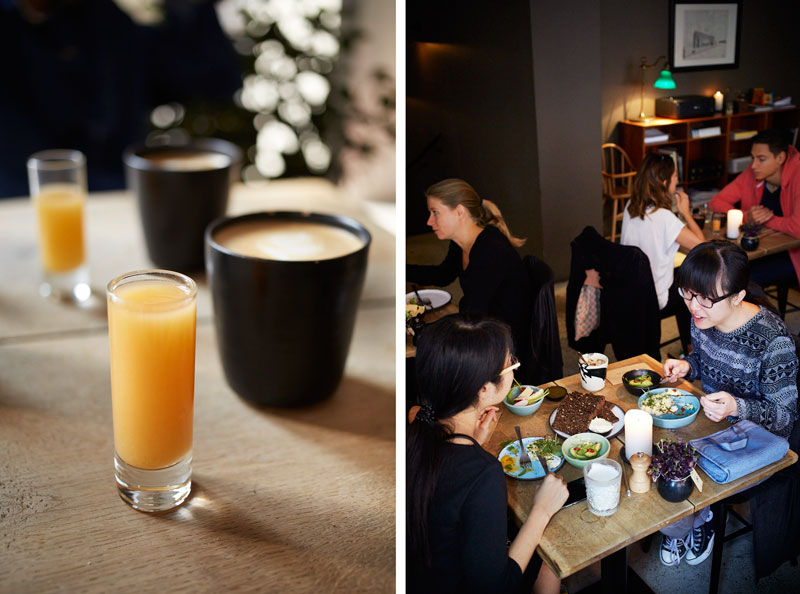 Manfreds
Manfreds is one of two almost entirely organic, farm-to-table restaurants on Jægersborggade owned and operated by chef Christian F. Puglisi and restauranteur Kim Rossen, both "descendants" of the famed NOMA. Their primary restaurant, Relæ, is Michelin-starred and the more expensive of the two options.
Although we had a reservation at Relæ, in the end we opted to try Manfreds that evening. Manfreds tasting menu cost roughly $40, as compared to about $80 at Relæ. A steal for an all organic Michelin-starred restaurant, but with wine, dessert and some other extras, our dinner at Manfreds came in close to $200 for two. With nearly two weeks in a couple of the most expensive cities in Europe, it was probably a good thing that we opted for the more affordable of our options.
As the restaurant promises, the offerings on the night we dined at Manfreds strongly skewed vegetarian, accompanied by a couple plates that included some sous vide cooked meat or a small portion of fish. The preparation style was interesting in that the vegetable focused dishes were made up of mostly raw ingredients, with only some cooked elements. But much simpler than the types of raw dishes you'd find at classic American raw-vegan spots like Pure Food & Wine (sadly no longer in business!) or at one of Matthew Kenney's restaurants. Altogether it was a very clean, fresh aesthetic without the accent of many herbs or spices.
The tartar looked delectable, but unfortunately I wasn't able to sample it since it was made with bread crumbs. If I'd been able to partake in that plate of delicate pasture raised organic meat topped with cream (oh lord!), I would have felt more complete with the meal.
I enjoyed the food and the experience overall, and I would absolutely recommend giving Manfreds a try, but I prefer a little more complexity and spice in my food. Some of the dishes were being modified to be gluten free, so perhaps those gluten accents were essential missing elements. Until I return to Copenhagen, I will be haunted by the curiosity of how the approach at Relæ might have differed.
GRØD
Grød, as might seem obvious, means "grain." This chain of four porridge cafes throughout Copenhagen, makes the most delicious breakfast bowls to satisfy gluten free, vegan, or dairy and gluten loving diners alike.
It's an excellent breakfast option and although Grød doesn't make any claims in their marketing about using organic ingredients, I was told by one of the servers at the Nørrebro location that nearly all ingredients are indeed organic.
I was so impressed with the "All-In" gluten free bowl, that I had to have it twice and was curious to try the dinner bowls.  The savory bowls are a fairly healthy and an affordable dinner or lunch option, but of the two gluten free options that we tried, the "risotto" and the "congee" (without soy sauce), neither had enough going on outside of the rice or grain base to excite my palate or quite nourish my body.
Go for breakfast and if you're looking for an affordable dinner, check out Papirøen for your pick of incredible food trucks.

Istid Organic Ice Cream
If you haven't tried nitrogen frozen ice creams, they're quite a treat. Deliciously smooth in texture, and fun to watch as they're made fresh for you. Vapor wafts dramatically from steel mixing bowls, then poof, your fresh ice cream is ready. I'm not generally drawn to food that feels like a futuristic science experiment, but this is an exception!
Istid uses mostly organic ingredients, so you can enjoy your ice cream without any regrets. You'll have to catch Istid's  fresh nitrogen chilled ice creams after the autumn and winter have passed. Luckily summer and spring, the seasons during which the shop is open for business, are the best times of the year to visit Copenhagen.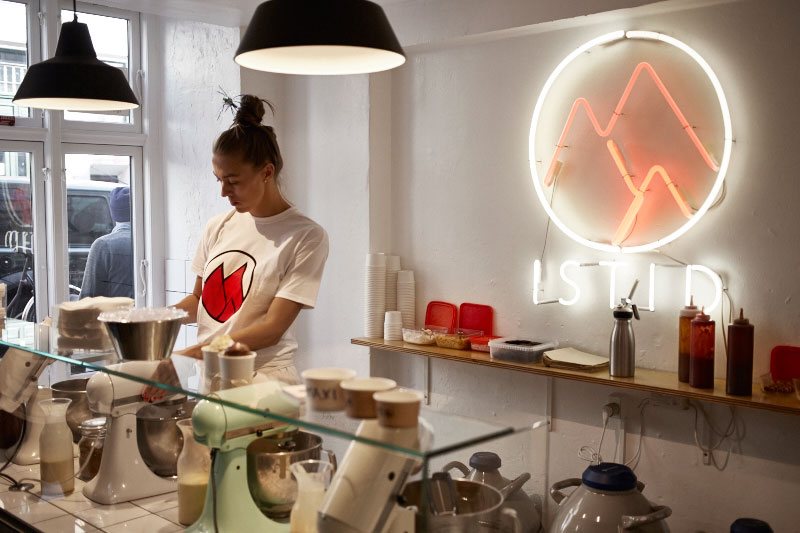 Keep Walking
There were only a couple food experiences that were bad enough to mention so as to steer you clear. I hate to bad mouth a business, but hopefully it will save you a disappointing meal or latte while visiting Copenhagen!
The Coffee Collective
Lattes are my weakness when it comes to espresso, and though I've experienced the gamut in degrees of good, our barista at The Coffee Collective served up one of the most unusually bad lattes.
If it wasn't for the light caramel color of our hot milky beverages, I would doubt that there was any espresso in the mix. It was a long wait and pretty disappointing. Thankfully Istid was directly across the street. A bad food experience always beckons a corrective one.
Cafe Taxa
I'm not sure if Cafe Taxa serves any organic ingredients, but it was quite easy to order a gluten free breakfast at this popular breakfast spot complete with cute outdoor dining area. Unfortunately both mine and my husband's dishes were pretty unappetizing.
My husband ordered the egg scramble, which came with sausages and bacon, and I ordered "the favorite," which consisted of an egg baked over a tomato based sausage stew. Upon arrival our dishes looked quite good, but we quickly discovered that all elements on my husband's plate were incredibly dry and flavorless, while my stew was a crock full of oily liquid that was also mysteriously flavorless.
This was one of those meals that was truly confounding–it's pretty hard to understand how such seemingly easy food could be so bad. If you're staying in Nørrebro, do yourself a favor and stick to Grød or Møller for a good breakfast!
While you're in Copenhagen, why not hop on a quick flight to Amsterdam! If you need some temptation, have a peak at my Gluten Free Guide to Amsterdam >