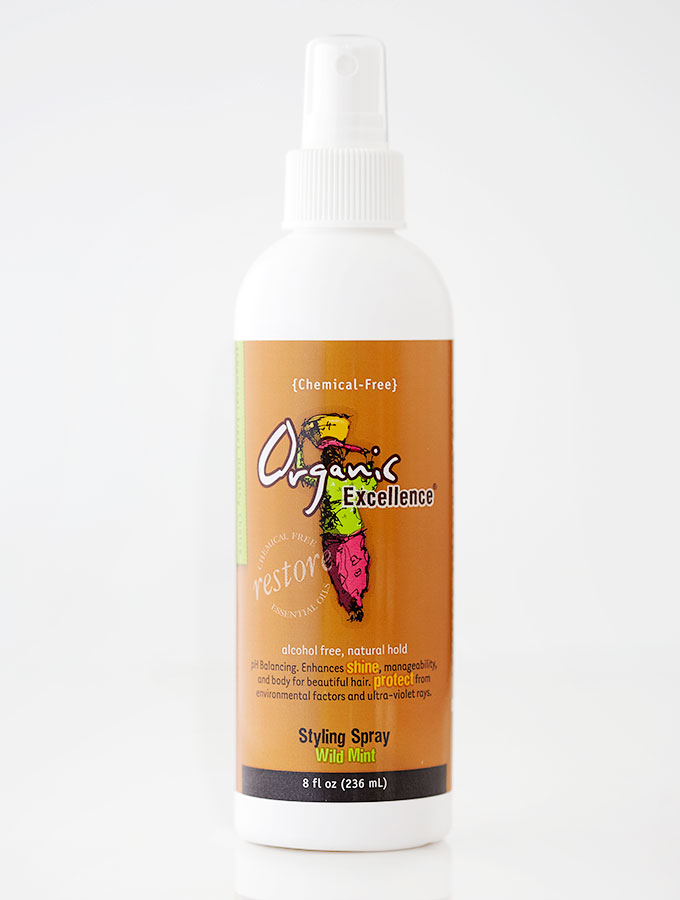 A Gentle Formula For Seriously Natural Hair
I'm just thrilled to introduce you to Organic Excellence. If you've been following my blog for some time, you'll remember that I've gone through a few different natural shampoo and hair care options this year. After being frustrated with some questionable ingredients in Acure's products, then trying the no-poo method, followed by mixed results with Morroco Method, I couldn't be more excited to finally share a line that I can recommend without reservation.
I was sold on Organic Excellence after reading their ingredient lists on both shampoo and conditioner and finding absolutely nothing to question. The ingredients are simple and natural. They're gluten free and completely safe.
This may be hard to appreciate unless you've spent years and countless hours reading ingredient labels, but 90% or more of the "natural" brands you see in health food stores contain ingredients that are not natural, or that contain wheat based thickeners. For example, the day I found Organic Excellence I struggled through parsing at least ten or more shampoo labels at Lassen's in L.A. before hitting on Organic Excellence. I was excited to find it and even more pleased when I found the shampoo and conditioner to work well on my hair!
Be sure to read all the way through for your Clean Living Guide Insider Promo Code!
Restoring Your Hair's Vitality
Organic Excellence is not only chemical free, but it leaves my hair silky clean and full of vitality. This mildly foaming shampoo feels tingly and refreshing on my scalp when applied. It doesn't leave my hair weighed down with residues, nor does it dry it out. It also doesn't seem to promote excessive greasiness and allows for about 4 days between washes. It's pretty much perfect!
The formulas are pH balanced, and aside from my generally great experience, quite a few customers have claimed that using Organic Excellence has helped to regrow hair after having undergone chemo therapy. Those comments and heeps of other raving reviews can be seen on the product page.
The entire hair care line, which also includes the Wild Mint Styling Spray, is mildly scented with mint. The scent is noticeable when applied, but doesn't have any staying power. I like to add a little Ylang Ylang essential oil to the conditioner bottle for a more luxurious fragrance that also leaves my hair mildly scented after the wash.
Wild Mint Styling Spray
This chemical and alcohol free styling spray is an incredible volume building tool! If you ever used Bumble & Bumble's Sun & Sea, this styling spray creates a somewhat similar effect. But unlike Bumble & Bumble's product this spray is toxin free. In fact, the herbal solution is designed to protect your tresses from the damaging effects of UV rays and other environmental factors.
To get a volumizing effect spray it on wet hair, brush it in thoroughly and follow immediately with a blow dry. These steps together, create thick luxurious hair with incredible volume.
In terms of using it as hairspray, it's a bit heavy and sticky for that. So I'm not sure I'd recommend it used that way. Perhaps a spray cap that creates a finer mist would solve that problem.
If you have celiac and you're worried about the "vegetable protein," worry not! The company double & triple checked with their lead chemist to confirm the protein source. The formula is made with pea protein, making it 100% gluten free, as are the shampoo and conditioner.
Priced For The People
Another great thing about this brand is that it's fairly priced. At $16 per 16 ounce bottle, it's not the cheapest, but it's definitely not as pricey as other brands made with ingredients this clean. You'd be looking at upwards of $30 per 8 ounces with brands that match this standard.
CLG INSIDER PROMO
Organic Excellence has offered to extend a 10% discount to Clean Living Guide readers until June 30th! There's no limit on how much you purchase, and since Organic Excellence daily specials run up to 25% off for those buying in bulk, so altogether you can save 35% on an already reasonably priced product!
If you need a few other products to meet the minimum for free shipping, I strongly recommend getting some Inflammation Relief Therapy. This cream will nearly completely eliminate the effects of a sunburn if applied shortly after sun exposure. It saved several people in my group just recently in Costa Rica. More on this miracle cream to come. The Hand & Body Therapy lotion is wonderful too. Leaves skin well hydrated without feeling greasy. The Anti-Aging Therapy  feels incredible too. After applying in the morning it seems to help with under-eye puffiness.
Full disclosure – I am an affiliate of Organic Excellence. Rest assured that my love of these products came from personal use, long before the partnership. If you click through my links, the profits help to allow me to keep creating this free un-sponsored content and to continue to broker insider discounts on amazing clean living products for you!
Ingredients You Can Read
See for yourself just how incredibly clean these formulas are:
Shampoo
Purified Water, Olive Oil (and) Coconut Oil (and) Potassium Lactate, Vegetable Glycerin, Peppermint Oil*, Fennel Extract*, Hops Extract, Balm Mint Extract, Olive Leaf Extract*, Ginger Extract*, Mistletoe Extract*, Allantonin (Comfrey Root), Citric Acid, Niacin (Vitamin B3), Lemon Grass Oil*, Burdock Root Extract*, Sage Extract*, Rosemary Extract*, Grape Seed Extract*. *Certified Organic Herb
Conditioner
Purified Water, Vegetable Glycerin, Olive Oil, Spearmint Oil*, Panthenol (Vitamin B5), Vitamin E (Tocopherol), Olive Leaf Extract*, Ginger Extract*, Chamomile Extract*, Comfrey Root Extract*, Rosemary Extract*, Grape Seed Extract*. *Certified Organic
Styling Spray
Purified Water, Guar Gum (Guar Bean), Vegetable Protein, Vegetable Glycerin, Panthenol (Vitamin B5), Lavender Extract*, Rosemary Extract*, Peppermint Oil*, Grape Seed Extract*. *Certified Organic