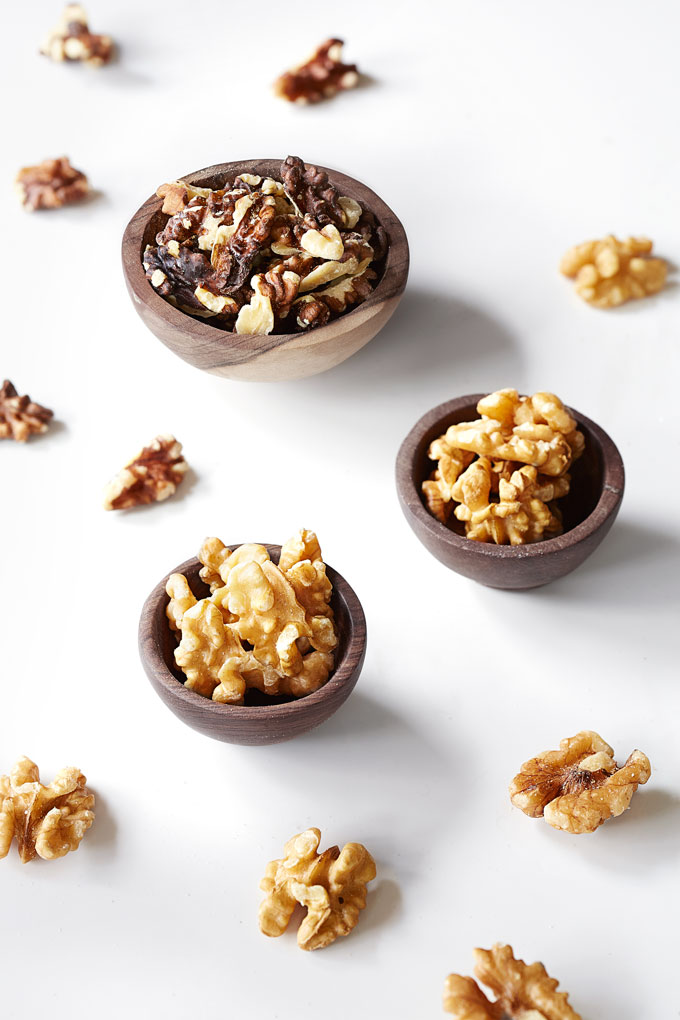 Walnuts Fresh Off The Tree & Velvety Cold Pressed Oil To Inspire Your Inner Walnut Sommelier
Corky's Nuts is a certified organic walnut farm located in Northern California, tended to for over 40 years by Corky. But it's his daughter Nicole Facciuto – an interior designer living between NYC and LA – who is the driving force behind making Corky's walnuts available to us today.
Up until a couple of years ago, the family only supplied their incredible organic, unpasteurized walnuts to a wholesale distributor and major retailers. But after years of supplying friends and even famous NYC chefs with her father's fresh walnuts, and hearing story upon story about how the sensory experience had impacted their lives, or in some cases their menus, Nicole became certain that bringing fresh walnuts to the public was something she was committed to taking on, in order to honor her father and his work, and to connect more people with the unique experience of enjoying a walnut fresh off the tree.
The Bitter Truth About Rancid Oils
If you've only ever had the chance to eat store-bought walnuts, that means that you've only ever tasted walnuts that are up to two or more years out from their actual harvest date. For this reason you will never see a packaging date, only a "use by" date. Obviously, nuts that are two or more years old are going to be stale, but the result is not just a brittle walnut.
Exposed to various conditions and with that much time off the tree, old nuts begin to go rancid. The unpleasant bitter taste of most store bought walnuts is an indicator that the delicate oils have oxidized. This is not just aesthetically unappealing, but also very unhealthy to consume.
Most nut and seed oils are loaded with EFA's and start out vitally nutritious before being exposed to heat, light and oxygen. But these delicate long-chain polyunsaturated oils are susceptible to molecular damage which results in oxidation. When fatty acids are oxidized, this produces free radicals which play a role in promoting disease. With repeated exposure oxidized oils can contribute to premature aging, skin disease, liver damage, immune dysfunction and even fuel cancer.
One way to think of it is that if the food you consume is not structurally healthy on a cellular level, then it will produce the same effect in the body. The concept fits right in with the doctrine of signatures, which neatly segues into the many health benefits of fresh, organic walnuts.
Doctrine of signatures
You've probably heard that walnuts are good for your brain and heart, and noted that the walnut resembles those very organs in the human body. Metaphor and mimicry in nature is a common, yet brilliant occurrence, and a concept referred to in herbalism for nearly 2,000 years.
This folk method of divining what herb or food might support the healing of a particular area of the body or ailment, is in many cases being proven effective by science. Although the reason that walnuts work particularly well for brain health may be much more complicated, we now know that the high levels of omega-3 fatty acids are extremely beneficial for the brain and as a result walnuts have been lauded for improving mood, memory and even preventing Alzheimers.
Loaded with antioxidants, vitamin E, folic acid and minerals like manganese, phosphorus, copper, iron, calcium; fresh un-oxidized walnuts can play a major role in reducing inflammation, enhancing heart health, improving cholesterol levels, reducing PMS symptoms, improving melatonin production for better sleep, and much more.
Just remember, that's it's fresh nuts that will yield these benefits! Corky's Nuts are possibly the only US market walnuts and walnut oil labeled with the harvest or pressing date, so that you can know exactly how fresh they are.
Floral, Caramel and Honey Notes
With all those incredible health benefits you'll want to devour Corky's Nuts raw walnuts in heaps, but gobble any of these walnuts down without much thought and you may not notice the subtleties between the three varieties.
However if you close your eyes and let the nuts melt away in your mouth, as you slowly chew – breaking down and releasing the walnut's aromatic properties, you will most certainly be taken by the incredibly rich spectrum of flavors and aromas that they each have to offer. It's really quite remarkable! And only possible when the nuts are as fresh, before oxidation has taken it's toll.
Chandler
Chandler walnuts have a wonderful caramel flavor that finishes sweeter than the Hartley. They have a characteristically nutty flavor that leaves your mouth with a lingering herbaceous aroma.
Hartley
If you close your eyes when you pop a Hartley or two into your mouth, and chew with intention, you might notice a lovely floral aspect to these buttery nuts. They finish lightly astringent, but a hint of sweet flower blossom can be detected from beginning to end.
Sun Roasted
Sun Roasted walnuts are a mix of Hartley and Chandler, but they're coming from shells that were poised to receive the most sun on each tree. These sun-kissed walnuts, slowly roast in the shell as they grow. Resulting in a nut with a beautiful reddish skin and a rich honey-sweet, deeply buttery texture, at points revealing a slight almond aroma. Ah the genius alchemy of sunlight!
All three varieties are absolutely melt-in-your mouth delicious and exceptionally sweet by comparison to any walnut you've tasted. But on the chance that some of these flavors or aromas are particularly appealing to you, I hope that these descriptions can help you make your decision!
Oil Golden As The Essence Of Sun
If you're on a limited budget, do yourself a favor and get a pound of Hartley or Chandler walnuts and a bottle of this heavenly Cold Pressed Walnut Oil. You will have never tasted anything like it.
Processed in-house with Corky's Nuts organic walnuts grown on the farm, this incredibly luxurious oil has a full-bodied, buttery and sweet walnut flavor with a velvety smooth consistency. It's like sipping on the essence of the sun and earth. A perfect expression of light and mineral rich soil.
The incredible, untainted flavor and texture is the result of a true cold press, unfiltered processing method. According to Nicole, most culinary walnut oil is pressed using high heat or by performing a roast to maximize the amount of oil being made. Roasting nuts and heating the meat produces a higher yield of oil as the heat allows for more oil to be released from the walnut.
The cold press method not only yields a more delectable oil, but keeps the nutritional properties intact, and again prevents the oil from becoming rancid during processing. To further preserve the integrity of the oil's delicate molecular structure, Corky's walnut oil is bottled in 100% opaque aluminum bottles and should be refrigerated to maintain freshness.
Drizzle salads, pureed soups or roasted veggies  with this oil and you will be in heaven! You can even use it as a dipping sauce for artichokes!
Securing Your Year's Supply, Or Just A Pound
Corky's Nuts organic walnuts are harvested only once per year and sold on a pre-order basis. Orders for the 2017 season will open on April 28th and continue until they're sold out. Deadline to place your order is October 22, 2017. As Mother Nature dictates actual harvest date, expected shipping window for the upcoming season is mid-November through mid-December.
If you're not sure how much to buy, consider budgeting about 10 pounds of walnuts for your private year long walnut supply. Simply keep them refrigerated and sealed, as you work through roughly a pound of walnuts per month. With the harvest date coming up right around the holiday season, another way to take advantage of bulk pricing, is to order some of these special walnuts to give as gifts. The only issue is you may not want to give them away!
Hartley and Chandler walnuts go for:
$18.99/lb
$18.49/lb on 5+
$17.99/lb on 10+
Sun Roasted walnuts are $26.00/lb. Due to being available in extremely limited quantities and hand sorted, bulk discounts do not apply.
Cold Pressed Walnut Oil is $25.00 and includes free shipping! The oils is sold year round, in 4-6 small batch pressings noted on Corky's Nuts website.
CLG Insider Promotion
Corky's Nuts had extended a 10% discount for the 2017 launch of their Chandler, Hartley and Sun-Roasted walnuts to all CLG readers, but this promotion is over. Sign up for the Clean Living Guide mailing list to stay up-to-date on CLG product features and promotions.
Gluten & Other Allergens
Corky's Nuts process only raw organic walnuts and nothing else. No additional nuts, dairy or gluten share equipment for any of their products.
Now that you have a taste for walnuts, have a peek at my 10 MINUTE WALNUT SORREL PESTO made with Corky's Nuts aromatic raw walnuts.
SaveSave
SaveSave
SaveSave
SaveSaveSaveSave