Traditional Żurek requires the making of a fermented starter. Although that's highly beneficial, it requires using wheat and the time to prepare the starter in advance. My recipe is a great way of hitting that sour-soup sweet spot without the hassle or gluten.
Cheaters Żurek: A Sour + Savory Soup
Created by Patryce Kinga Bak on May 6, 2016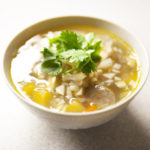 This sour dish reminds me of one of my favorite Polish soups: Żurek. The tart flavor together with sausage and buttery base makes for a deeply satisfying combination.
Prep Time: 10m
Cook Time: 35m
Total Time: 45m
Ingredients
1 Onion, chopped
1 tablespoon Pasture-raised Butter
dash fresh cracked black pepper
1/4 teaspoon Allspice, ground
1/4 teaspoon Celtic sea salt
1 Bay Leaf
6 cups Bone Broth or Filtered Water
1/2 teaspoon Fish Oil (optional)
2 tablespoons Raw Apple Cider Vinegar - or - Juice of a Lemon
2 Yukon Potatoes, chopped
1 medium Rutabaga, chopped
1 small Parsnip, thinly sliced
2 Organic/ Grass-Fed, sweet or spicy Sausages, 1/2" slices, skins discarded
Garnish
Parsley or Cilantro
Optional: Hard Boiled Egg, cut in half or quarters
Instructions
Chop veggies.
Melt the butter in a 2+ QT pot. Sauté onions, allspice, black pepper and salt until tender, about 7 minutes.
Add broth or water. Scrap up any bits stuck to the bottom. Stir.
Add the veggies, bay leaf, fish oil and vinegar. Simmer on medium heat for about 20 minutes.
Make an incision in the sausage casing along the length of the sausage and remove the casing. Cut the sausage into 1/2\" slices.
Add the sausage. Cook another 7 minutes.
Garnish and serve!