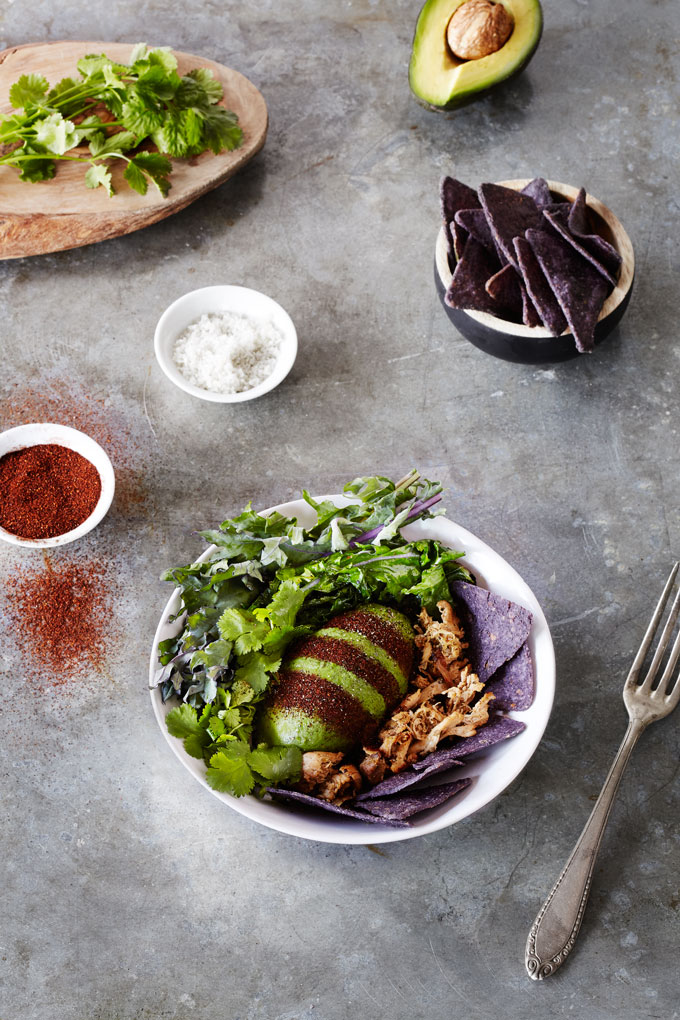 Paleo Bowl With Mexican Soul
This nourishing and delicious dish can come together in just a few minutes if you make a batch of shredded chicken in advance. Dusting the avocado with chipotle in a stripped pattern makes it even more fun! You'll be surprised to find how easy it is to come pretty close to perfect and how the chipotle chili plays off the flavor of the avocado. The sweet potatoes are not essential to this dish, so go ahead and include them if you love sweet potatoes, but if you need to simplify the dish won't be lacking.
Be sure to serve with a few corn tortilla chips on the side, and plenty of cilantro!
Cooking Notes
This is a great meal for solo diners or a casual healthy dinner for a family of any size. The chicken is the only part that takes a little bit of time, but if prepared in a larger batch the rest of the meal can be prepared in 15 minutes.
In the photos above I'm reheating the chicken and sweet potatoes along side a few leaves of Russian Red kale in one pan. That's how easy it is to make this dish when you're working with precooked meat! The sweet potatoes too, can be steamed and stored for a couple days to be reheated throughout the week – as I mine were for this particular meal.
If you're making the whole dish from scratch, follow these steps to save time (roughly 45 minutes start to finish):
Boil chicken and optional sweet potatoes at the same time
In the meantime sauté the onions and prep garlic and spices for the chicken
Turn the burner off and cover the onions while shredding the chicken
Turn the heat back up add garlic and spices, proceed with the rest of the recipe
The only special ingredients or tools you need for this dish are Chipotle Chili Powder, and though they aren't necessary, a pair of Meat Claws will make your life a lot easier. Shredded is my favorite way to eat chicken and the claws (though admittedly they look a bit creepy) reduce shredding time by about half.
The Avocado
To serve the avocado half you'll need a perfectly ripe avocado. If your avocado is ripe enough to eat but a little hard, just slice it up. The half works if the meat of the avocado is buttery soft and your fork can slice right through it.
Use a spoon to dust the avocado with the Chipotle Chili, tapping it as you go.
The Chicken
When shredded a little meat goes a long way! For me, a single breast made this way easily yields enough meat for two meals. If you're serving two, make two breasts and enjoy leftovers if you're lucky enough to end up with some.
Like I've already mentioned, this chicken is so delicious, you'll likely want to make a bigger batch of it to eat over a couple nights. It's easy to reheat in a little bit of olive oil or a splash of broth, and so good that you won't get tired of it!
For a whole family, you can boil and shred an entire chicken. This is much more economical  and healthier too with the addition of the dark meat, but truth be told, I do prefer this recipe with just white meat. Also be prepared to spend a bit of time getting the meat off the legs and wings. A whole chicken should yield enough meat for a family of 6, or last all week for a single person. Just remember to adjust the spices when working with more meat.
The Kale
I prefer Lacinato or Russian Red kale because the leaves are just little less fibrous and more delicate. This makes it possible to sauté whole leaves. If you're working with Curly kale, chop those big leaves up before tossing them in the pan.
Shopping List