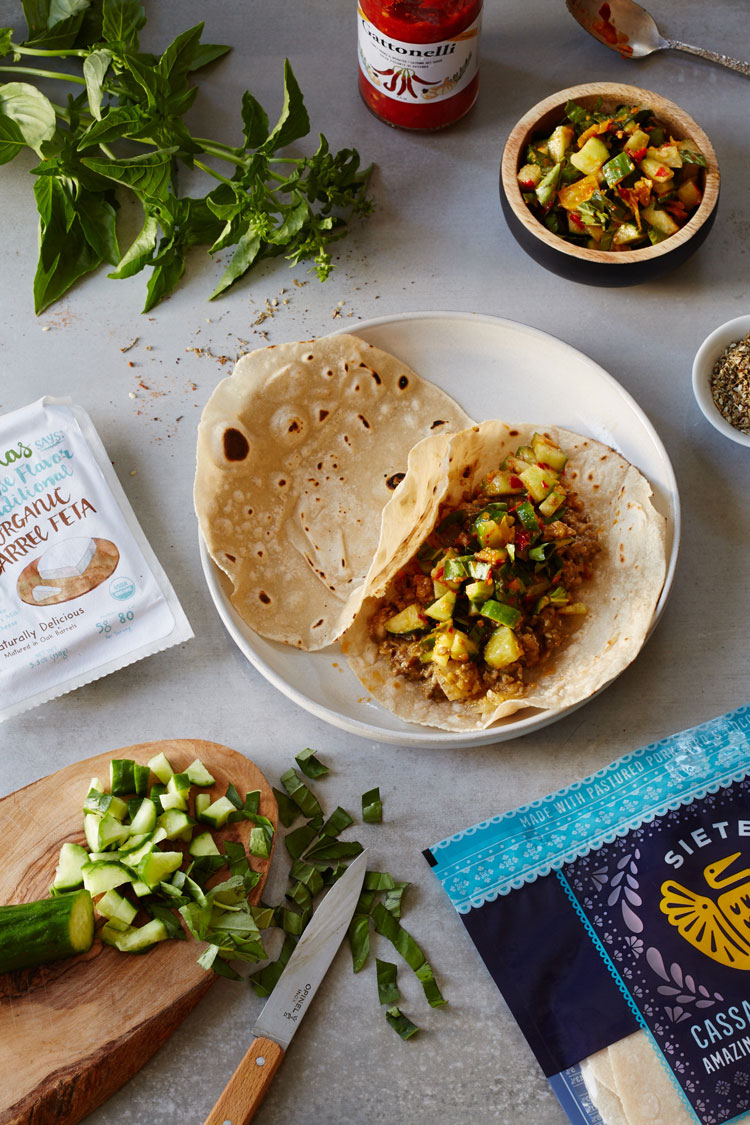 Get Your Mediterranean Fix with these Za'atar Spiced, Lamb Filled Cassava Wraps
The star of this dish is the amazingly simple yet delicious ground lamb sauté spiced with sweet Hungarian Paprika and Za'atar, but if you've yet to try them, the doughy Siete Cassava & Coconut Tortillas that serve as wraps for the meat will also blow you away.
These gluten free tortillas taste like a cross between filot dough and a flour tortilla. When you heat them in a pan with a little bit of butter they actually puff up a bit and remind me – just a tad, of some homemade Israeli pitas that I've had.
Now top all of this with my refreshing piquant cucumber salsa made with some probiotic sauerkraut and freshly crumbled feta, and you'll be in for a delicious meal. Even better, the whole dish only takes about 30 minutes to prepare!
Cooking Notes
As always, I can't stress enough the importance of high quality, organic and chemical free ingredients. With the meat in particular, do your best to get lamb that is organic and preferably, pastured raised.
Feta is a bit hard to find labeled as coming from pasture raised sheep, so look to get Feta at your Farmers' Market from a local producer. If you're in Northern California, you can buy Belfiore Feta at some natural markets or Whole Foods. Their cheeses are coming from grass fed animals and their Mediterranean style Feta is perfection – delicately pungent, yet rich and creamy.
Chop up the cucumbers and prepare the salsa while the meat is cooking to save time.
Find the Siete Cassava Tortillas at most Whole Foods and other health food stores.
Za'atar can be hard to find in stores, so be sure to order some in advance. Spicely brand Za'atar is some of the best I've tasted! Same goes for Sweet Hungarian Paprika. If you don't get it online, you'll be hard pressed to find it in US grocery stores. Regular paprika does not have the same flavor profile, it's much sharper and bitter.
And don't forget to line the tortillas with some baby spinach, like I forgot to when shooting the photos for this recipe! Be sure to put piping hot meat on top of the spinach so that it wilts a bit. Alternatively wilt the spinach in a hot pan for a moment before plating.
Serve with a generous helping of Feta!