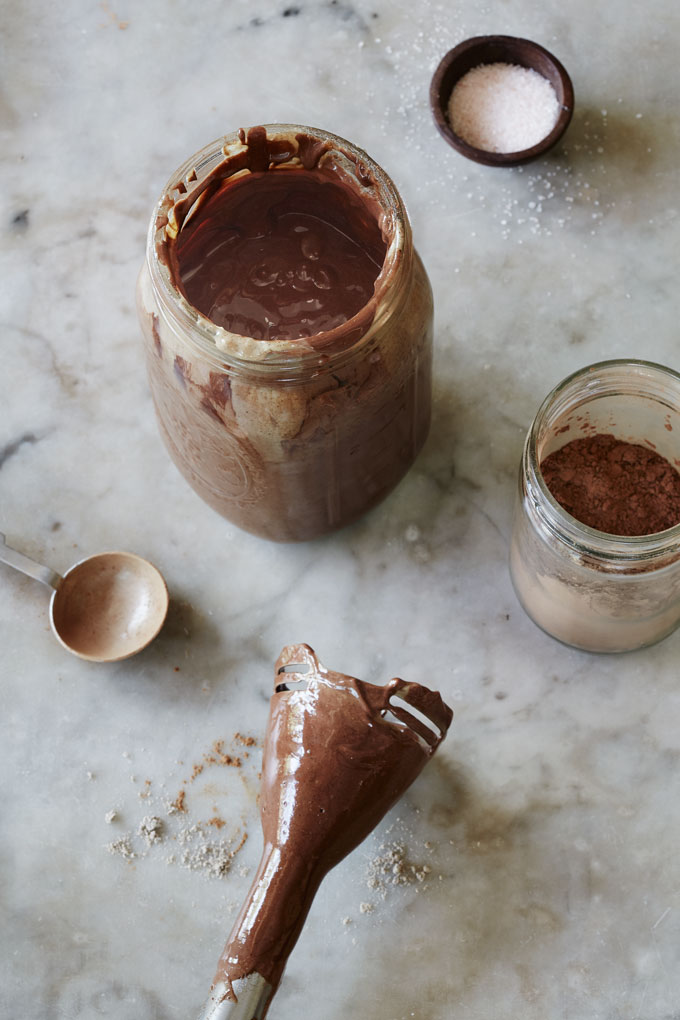 Hallelujah! You've just found the recipe for a completely natural hazelnut-chocolate spread to satisfy that Nutella craving!
I've heard many a health-foodie say that they won't give up their Nutella. If you've ever dared to read the ingredient list on the coveted chocolate-hazelnut flavored butter, you'd see how that's quite a contradiction.
Nutella is packed with denatured sugar! Which sits in a solution of mostly modified palm oil, flavored with some hazelnuts, some cocoa (mores sugar), skimmed milk powder (hello again sugar), whey powder, lecithin, and vanillin. Between the massive dose of processed sugar, the oxidized modified palm oil, carcinogenic whey powder and unknown sources of lecithin and vanilla flavor, you're looking at a spoonful of toxic.
But don't despair! You can make your own healthy and even more delicious Better-Than-Nutella Butter in minutes! It just requires a handful of staples, all of which you can find links for below.
Stay tuned for the recipe for the Teff Pancakes above to serve with your Better-Than-Nutella Butter!
Cooking Notes
This recipe is for a big 16 ounce jar, but can easily be reduced to make a smaller batch.
Storage
Once you store the butter in the fridge it will harden to a thick spread. If you're looking for a runny, gooey consistency as seen on the pancakes, let the butter warm to room temperature before serving.
If you're planning on polishing the spread off in a couple weeks time you can leave it out at room temperature for about a month. But to store safely for a longer period, it's best to keep it in the fridge.
Honey
I used about 2 tablespoons of honey for the 16 ounce jar, but depending on how little sweetener your body can handle, you can actually make this butter without any honey at all. There is a natural sweetness that arises in this mixture which might appeal to some purists over the sweetened version. Think of it as the more sophisticated, dark chocolate version of Nutella.
On the other hand, you can add up to 3 tablespoons of honey to the 16 ounce recipe if what you're seeking is a desserty treat that closely approximates the sweetness of Nutella.
Nut Butter
Use your favorite ghee and spices, do your best to get your hands on a jar of Nuttzo Peanut Pro, Smooth 7-Nut & Seed Butter. Don't just substitute with plain peanut butter. If you can find pure hazelnut butter, like Raw Health Pure Organic Hazelnut Butter, add a couple tablespoons to heighten the hazelnut flavor. Nuttzo is a bit cheaper on Thrive Market, but also available in stores like Whole Foods.
If Nuttzo is not avaialble in your area, make the spread with a half portion of hazelnut butter mixed in with almond or another nut butter. This is a more expensive route, but will also make for an incredible spread.
Tools & Pantry Shopping List
The one tool you'll need to make this butter is a hand blender. If you don't have an immersion wand, you can just whip the mixture by hand. But you will get a much smoother butter with an hand blender and find many other uses for it if you do invest in one. Here's a great choice, along with all your pantry needs:
On Amazon:
For easy discounted Thrive Market shopping: