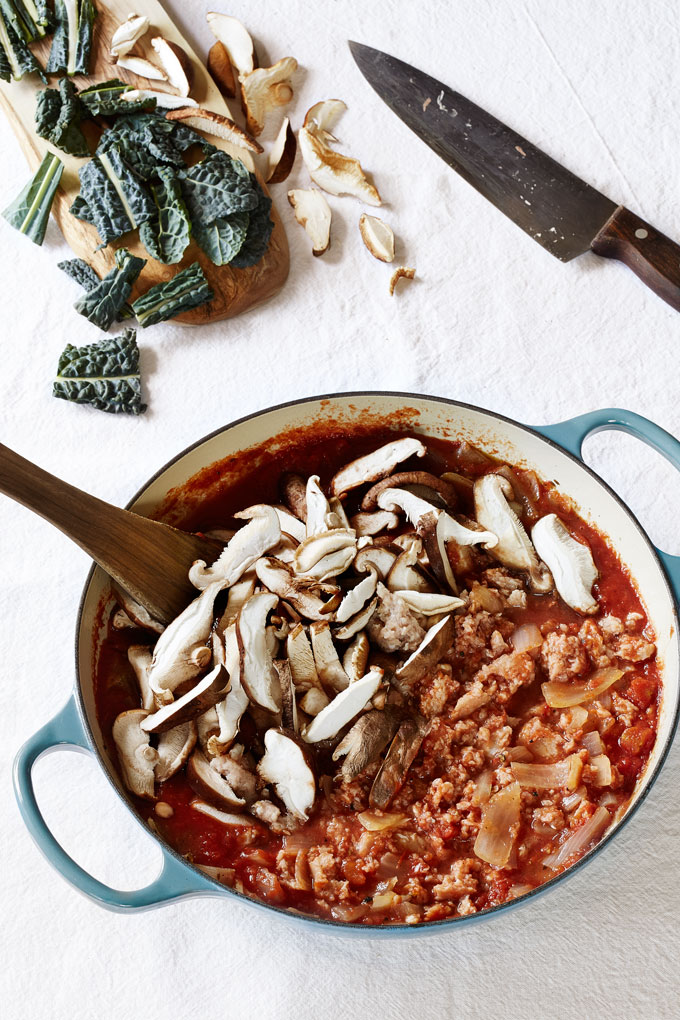 A One-pot Asian Inspired Twist On Chili
You don't have to dress this dish up with flowering broccoli rabe, but as we move into spring, chances are you'll find all sorts of beautiful flowering greens at your local Farmers' Market.  Who doesn't love an edible flower! I say do it up if you have the chance!
Just beside the row of flowers you'll notice a little heap of Walnut Cilantro Dip dressed plain quinoa. This is a delicious addition to the Shiitake Turkey Chili, but the chili holds it's own with nothing more than a side of greens or a plain grain. You can even serve it plain, just garnished with fresh minced parsley, for extra vitamin A and digestive support.
Nutritional Content
In all its simplicity this dish packs a powerful list of nutrients. Even better, the short cooking time, helps to persevere the nutrients in the mushrooms, meat and kale. With lycopene from cooked tomatoes, omega-3's, high protein content in pasture-raised turkey, myriad nutrients in bone broth, immune-supporting polysaccharides in Shiitake and the anti-oxidants in kale, this meal is as healing as it is delicious.
Turkey seems to get far less culinary attention than other meats like pork, beef and of course chicken, but it's an incredibly nutritious source of meat protein when pasture-raised (see below for tips on how to find pastured meats locally) and with it's easy to season mild flavor should be regular in your rotation:
If allowed to forage (when pasture raised) turkey is a very good source of a balanced ratio of omega-6 and omega-3 fatty acids.
Studies show that the consumption 1-4 oz per day of turkey decreases the risk of pancreatic cancer risk.
Turkey is a high-protien food, similar to egg-whites, which can help maintain steady post-meal insulin levels.
It's an extremely high source of vitamin B3/ niacin, which is essential for the conversion of proteins, fats and carbohydrates into energy! If you don't have enough of this precious nutrient your body may store those otherwise beneficial food components as fat and keep you feeling low energy.
Cooking Notes
This is an extraordinarily easy dish to prepare, combining only a couple basic seasonings with six main ingredients:
Ground Turkey
Shiitake Mushrooms
Lacinato Kale
Diced Tomatoes
Bone Broth
Onion
Serve
Serve this dish with a side salad or over grains. It's great with plain quinoa, but best when mixed with my Sensational Walnut Cilantro Dip. You really don't have to go through the trouble of making the dip, but you will be glad you did!
The dip only take 10-15 minutes stray to finish and will not only make your quinoa (or any other grain) your favorite thing, but can be used as a chip dip, over eggs, on sandwiches, you name it.
The Tamari
Tamari is the only somewhat exotic ingerdient necessary for this recipe. Don't skip it! It's essential to filling out the flavor profile of this dish. Shiitake Mushrooms have an incredibly robust, sweet and savory flavor, but the Tamari really brings the dish to life. See my pantry notes below for more details, but I'd suggest that you splurge on Ohsawa's barrel aged, alcohol-free Tamari.
The Turkey
The turkey has a supporting role in this dish in terms of flavor, but it plays a leading role in terms of nutrition. Seek out pasture-raised organic turkey to get the most nutritional benefits.
If you're not sure how to find high quality meat in your area, check the Eat Wild or Local-Harvest websites to find a pasture-raised farm source near you, or just try your local Farmers' Market.
The Shiitake
Be careful not water-log your mushrooms. In fact, unless the mushrooms look visibly dirty you don't need to wash them. If you do place them under running water to gently scrub with a mushroom brush, don't wet the underside of the cap. Only brush dirt off the top. Shake the water off immediately.
Chop them into roughly 1/3 inch slices. You can leave the stems on, chopping off the very end. Or store the stems in the freezer with your other discarded veggie pieces to use in making Bone Broth or veggie stock.
The Tomatoes
Stay away from canned tomatoes if possible. Not only does all lining on cans contain toxic chemicals – even when labeled BPA free – but canned tomatoes almost always contain unnecessary sodium based preservatives and citric acid.
My favorite brands for preservative + salt-free tomatoes in glass jars are Jovial from Thrive Market or Bionature's Strained Tomatoe Pastes. Bionature jarred tomatoes are available at most Whole Foods, but I suggest you order Jovial diced tomatoes on Thrive. The chunky consistency of diced or crushed tomatoes works a bit better with this recipe.
The Bone Broth
As always, I recommend you make your own Basic Bone Broth. But if you're in a pinch you can always just use filtered water or Epic Homestyle Savory Chicken Bone Broth, commonly found at Whole Foods. This is the best tasting commercial bone broth I've tried, but chances are that you can find an even better small batch producer local to your area at a coop or health food store near you.
Tools & Pantry Shopping List
You can make this recipe with any 3+ QT pot, but if you don't have a deep braiser, consider investing in either the Le Creuset or the much more affordable version by Lodge. I've not used the Lodge braiser, but looks like a great option if Le Creuset is out of your reach.
Ohsawa Tamari is simply the best and can be found in most health food stores for about $12, but San J is a fine option if you prefer to spend around $6. Try to use organic non-irradiated spices as much as possible, and if you have gluten intolerance, buy Spicely brand's gluten-free spices. They're a little more pricey than average, but extremely high quality. You can taste the difference!