Eating gluten free in Amsterdam was as delicious, as it was effortless.
Filled with few expectations, I was in for a sweet surprise arriving in Amsterdam this past September. What I knew for certain was that there would be canals, tulips, great art museums and good cheese.
In addition to all that, Amsterdam turned out to be one of the most livable and charming European cities I've visited. It had a great mix of old and new architecture, incredible public spaces all throughout the city and seeking out healthy, organic and gluten free fare was effortless.
In terms of organic prepared foods there were few options. In fact I was told by the owner of Small World, a café on the north end of the Jordaan, that there are only a couple spots for semi-organic dining in Amsterdam. And that De Kas, an upscale restaurant, is possibly one of the only truly organic establishments in the city.
There are however plenty of options for healthy snacks as you make your way around town, and because Europe has stricter regulations on chemical farming, including a ban on GMO's and prophylactic use of antibiotics in livestock, even conventionally produced foods deliver a lighter toxin load.
The Netherlands in particular seems to be forward thinking on issues relating to pesticide use. In a conversation with the owner of KEEK, an all organic café in the town of Utrecht, I learned that a national grocers association similar to the Grocery Manufacturers Association (GMA) in the U.S., has recently announced a voluntary ban on 47 pesticides currently allowed on conventionally farmed foods. Coming from the US, where the G.M.A. lobbies for regulations that instead put people and the environment at greater risk, this came as quite a shock. It's by no means a state of perfection, but an optimistic sign for sure.
Although these issues are vitally important to me and I find them exciting to learn about, when traveling I make an effort to find great farm-to-table or organic eats, but I certainly don't confine myself only eating organic foods. It's not realistic and just as important to stay relaxed and allow for some pleasure while on vacation. We must let that oxytocin (happy hormones) flow freely while away from day to day stressors!
For better-or-worse, staying clear of gluten is however non-negotiable. Yet again, I do the best I can. But in truth, as much as I may try to maintain a gluten free diet, it's hard to not feel the effects of cross contamination when eating out for days or weeks at time–especially in Europe. The onset of rashes, joint pain and some fatigue are pretty immediate for me, but I refuse to live in a sterile cocoon.
If you have acute gluten intolerance please keep in mind that the gluten free options listed below are not necessarily celiac safe. Check for yourself before eating at any of the below recommended places if that's something you require. Consider the wonderful organic markets for preparing your own meals. Amsterdam is filled with one picturesque picnic spot after another!
Coffee
BRUNO's in Jordaan
After making our way through the Jordaan sampling one bad latte after another, to our relief, we finally came across Bruno's espresso bar and tea shop. The lattes were delicious and the old world, artisanal experience was the prefect way to start our long days of sightseeing.
Bruno works on two espresso machines, a new Fiorenzato and a vintage Brugnetti, with a clear bias for the pristine 1950's machine. He asked our preference for a stronger or lighter roast, and offered up the bean varieties available in each of his grinders. We tried both the Columbian and Cuban arabica.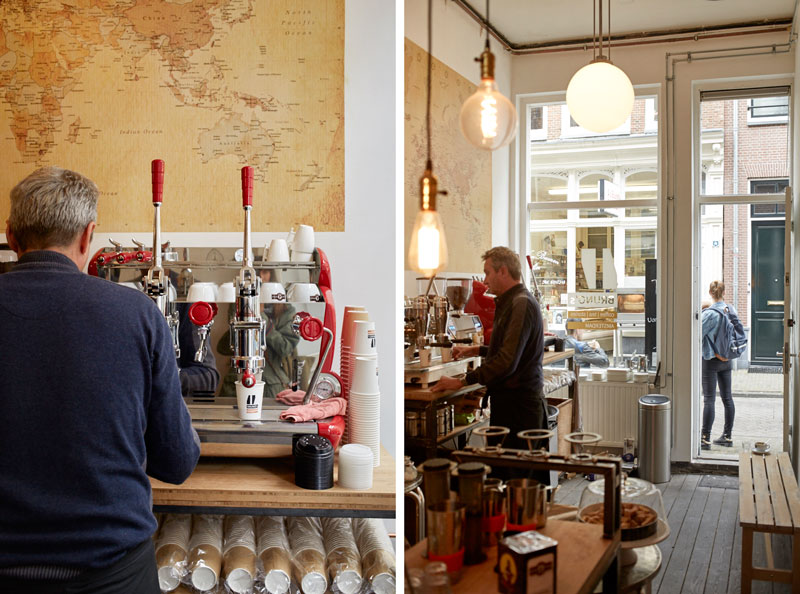 The Cuban beans proved to be our favorite, yielding the richest and smoothest, caramel tinged flavor. Although he uses conventional milk, Bruno's steaming creates a delicious microfoam texture. Precisely warmed for a perfect sweet flavor to accompany the smooth espresso. Come prepared to buy some bags of carefully sourced beans, or browse Bruno's excellent collection of glass and steel brewing tools.
TOKI in Jordaan
When we came across this designy coffee shop we'd already discovered and fallen in love with Bruno's. But the experience of finding it so very hard to encounter quality coffee in the Jordaan, together with the well designed interior and Bonanza roasters beans, piqued our curiosity enough to try yet another latte at TOKI.
The Bonanza espresso also made for delicious lattes. Based in Berlin, Bonanza roasters source beyond fair trade beans and can also be bought in bags at the coffee shop. Toki is furnished with free wifi and large tables, should you need to stay a while and plan your day.
ALL THE LUCK IN THE WORLD in Oost
We came across this cute coffee spot in Oost on our way to De Kas. All the Luck in the World is a small chain of "concept stores" full of envy inducing design objects and wearables which can be enjoyed while sipping on yet another one of the best lattes we found in town.
Breakfast to Lunch
COTTONCAKE in Di Pijp
By the time that we got to this cute design shop-cum-organic café the kitchen had already closed, but Cottoncake warrants a mention because they offer an excellent organic gluten free breakfast and lunch, along with some very tempting gluten free baked goods. The menu sounds incredibly tasty but skews healthy. Pretty much my favorite combo.
Be sure to get there before 3pm to order food, with time to linger until 4pm.
PIQNIQ in Jordaan
I will miss the little gluten free croissants served at this cafe, but will probably be better for it. Gluten free, white flour based, bready treats are a fun splurge on vacation, but for a healthier option you can opt for the delicious apricot yogurt parfait topped with fresh mint.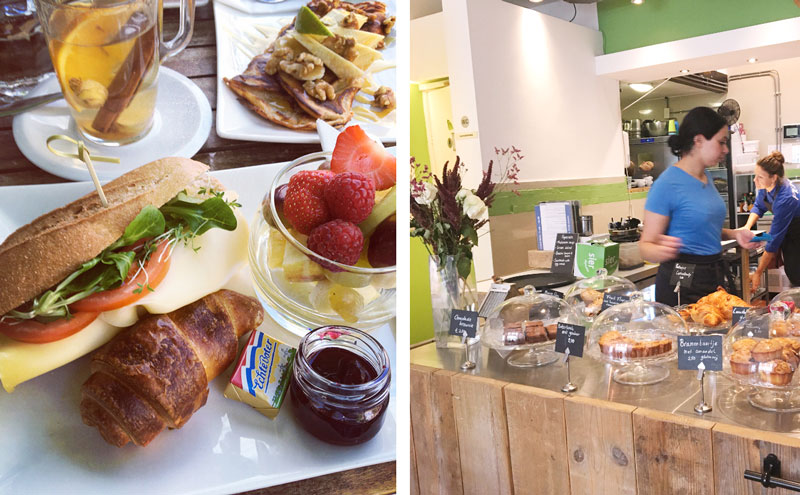 Visit PIQNIQ for eaither breakfast or lunch. They offer gluten free options for everything, including Dutch pancakes. Although I didn't love the pancake, the gluten free baked goods and breads were some of the best I've had, and they offer a gluten free high-tea!
Beware that PIQNIQ only has Nescafé espresso, so stop by Bruno's or Toki for your coffee. Be sure to try PIQNIQ's hot ginger tea brewed with an orange slice and whole cinamon stick. A perfectly hydrating paring for your meal!
THE COLD PRESS JUICERY in Jordaan
This all organic juicery serves up some very pricey, but delicious smoothies, veggie juices and gluten free energy balls. If you can't tolerate any exposure to gluten The Cold Press Juicery is one of your best options for on-the-go meals in Amsterdam. With a couple locations in the Jordaan, one on Willemsparkweg near the Stedelijk Museum and one on Nieuwe Passeerdersstraat Near Oude West, you can hit them up as you bike around town working up a hunger.
SMALL WORLD in Jordaan
This little café offers a range of delicious salads, fresh juices and more, with some gluten free options. Small World is a great place for a quick bite or picking up some picnic fare.
KEEK in Utrecht
Let KEEK be your motivation for a day trip to the charming, historic university town of Utrecht. It's worth a visit, and the delicious all organic food at KEEK is the perfect lunch destination. The cafe is located right next to the most incredible of cheese shops, where you can vacuum seal your cheese booty to savor back home. (See the bottom of this post for details.)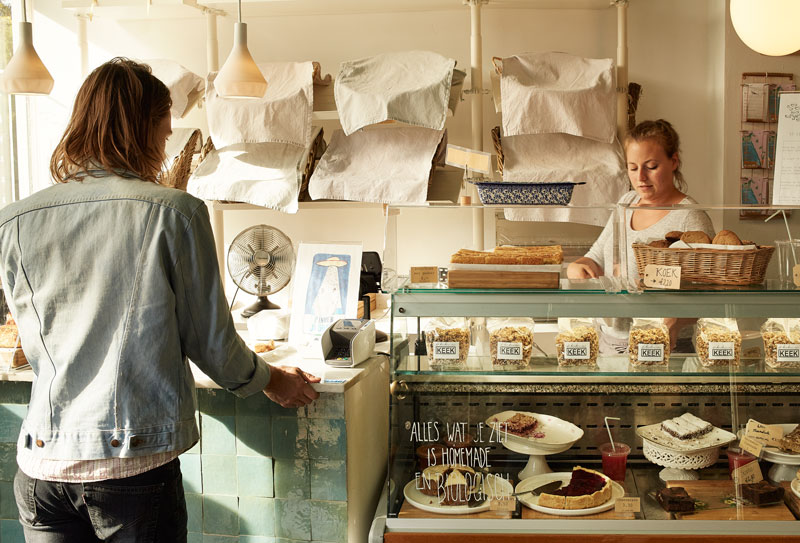 Everything served at KEEK is made of carefully sourced all organic ingredients. The gluten free pastries are incredible, as is their selection of teas. Although KEEK doesn't serve an official high-tea any longer, if you'd like the experience as a gluten free diner, they'll help you put together a grouping of treats.
Lunch to Dinner
DE KAS in Oost
Because I didn't have time to research much before our trip, I only discovered De Kas once I began to investigate things on the ground in Amsterdam. Luckily, lunch reservations are easy to secure and a meal during daylight hours was a boon for getting to shoot some images of this special place. If you prefer to splurge on dinner be sure to make reservations a couple weeks in advance.
What makes this upscale restaurant a must try is that much of their produce is sourced directly from their own all organic farm located just outside of Amsterdam, or from the gardens and greenhouse surrounding the restaurant. All meats and fish are sourced from either local farms that pasture raise their animals, or from wild caught Scandinavian seafood sources.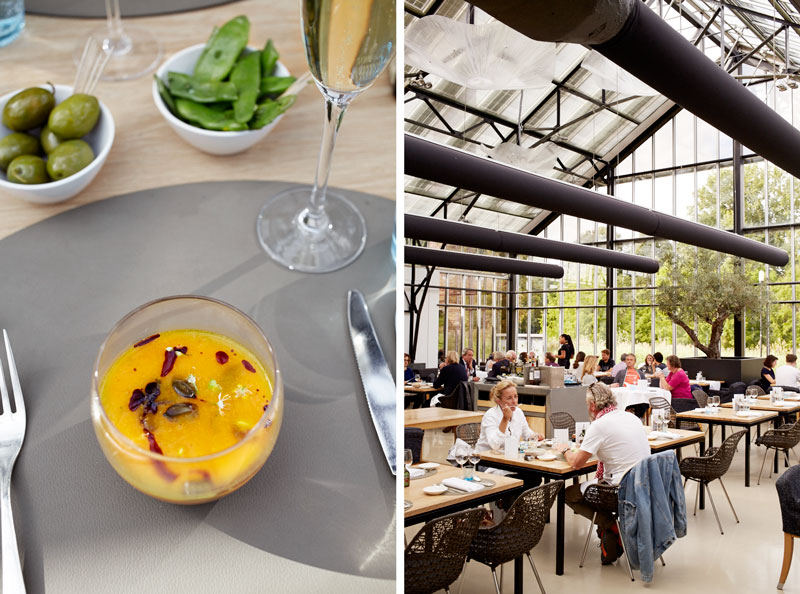 We opted for the day's prefix menu, which was almost entirely naturally gluten free. I was also surprised with gluten free toast to take the place of the homemade sourdough my husband got to enjoy. A bit envious of my husband's bread, I appreciated the gesture.
Our three course meal included a wonderful squash soup made on a lobster bisque base with fermented pumpkin cubes, garnished with pumpkin oil and garlic flowers. Next followed two delectable salads. A simple warm beet with arugula, fresh mozzarella and watermelon radish, alongside a beautifully complex cold seafood salad of house smoked halibut with a delicate creamy cod sauce, fennel and pistachios.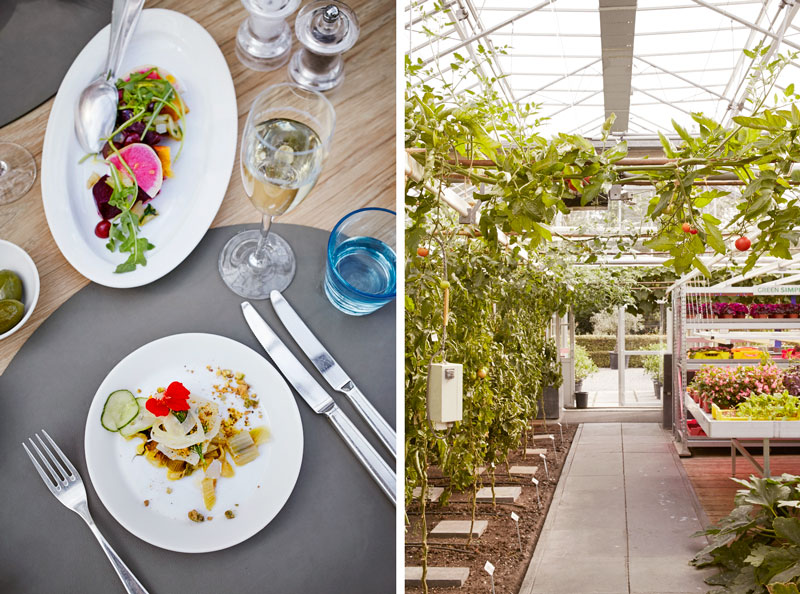 The main course was a full portion of wild Norwegian cod served over sweet pea mashed potatoes with wilted bok choy, roasted zucchini, all garnished with squash blossoms. Without any special sauces or strong tasting herbs, the dish was tasty, but fairly simple. This and the beet salad in particular, felt like we were eating at home. Which isn't a bad thing considering that we routinely feel like our homemade meals beat eating out.
The cost for the prefix menu was about $50 per person. Be sure to come with an appetite. The portions are generous! You'll enjoy your tastefully plated meal in an airy dining room set in a converted greenhouse, or ask to dine plein air during warmer months in the picturesque garden.
DE BOLHOED in Jordaan
This café uses some organic ingredients and is a great choice for both gluten free and vegan diets. The food is healthy, flavorful and the eclectic dining room overlooks a canal. Make reservations in advance to ensure getting a table at dinner.
MOSSEL & GIN in Westerpark
Just north of the Jordaan, this restaurant is one of several dining spots at the converted Gas Works plant in Westerpark. Mossel & Gin offers a few gluten free options on their allergen marked menu, and I got the impression that it may be possible to get a celiac safe meal here.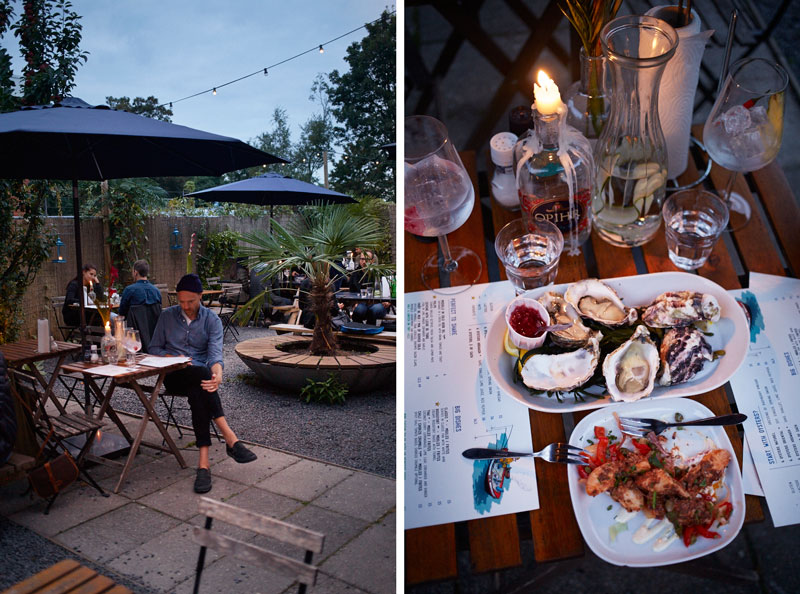 Of the gluten free options, the oysters, ceviche and grilled octopus appetizer were especially delicious. The only gluten free mussel entree available was dressed with roquefort cheese, which was good but quite heavy and began to feel a bit bland after a making it halfway through the pot.
Both gin and virgin cocktails were quite good. The atmosphere, especially since we were dining on the patio, was very pleasant and Westerpark was a fun place to spend the evening.
BRUT DE MER in Di Pijp
We had a lovely dinner at Brut de Mer on our second night. Arriving at 7pm without a reservation, we were early enough to get a seat at one of their few sidewalk tables. Facing a square and other cafes it was a really sweet setting.
Their menu is also marked for allergens, so it was very easy to order gluten free. Unfortunately, similar to Mossels & Gin, because of the use of soy sauce or fryer there are only a couple gluten free options.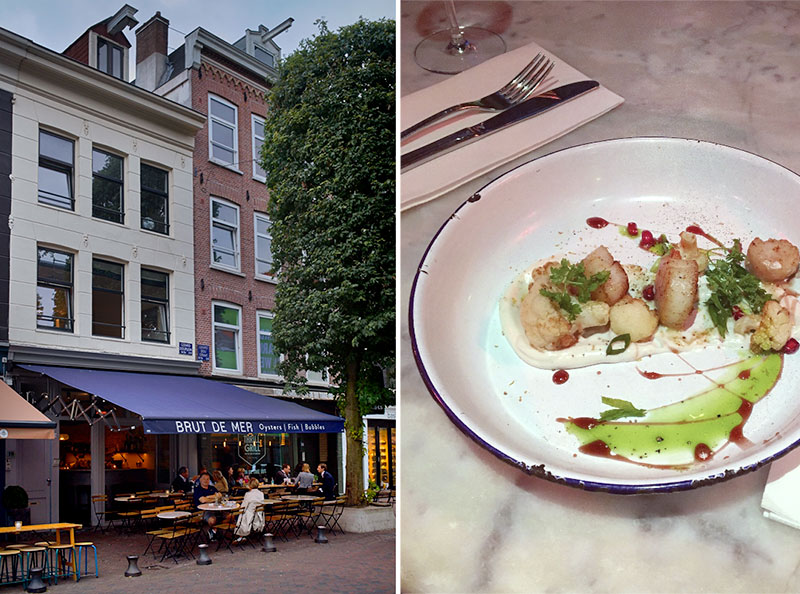 Thankfully the gluten free scallop and cauliflower plate topped with aioli and pomegranates, along with an appetizer of wonderfully creamy Normandie oysters was the prefect gluten free meal.
BAZAR AMSTERDAM in Di Pijp
We did not get to eat at Bazar, but we stopped in and had a look at the menu. It was recommended to us by several people, but because of the massive menu and causal nature of the place, I'm not sure how safe it would be order a truly gluten free meal.
Although being a largely North African and Middle Eastern selection of food, there were plenty of naturally gluten free options to choose from. We got the impression that the food was worth a try if you can risk it.
GLOU GLOU in Di Pijp
If you're looking for a place to enjoy an organic glass of wine, this natural wine bar is your spot. Glou Glou offers a tapas menu of charcuterie, cheese plates and the like, so it's fairly easy to dine gluten free if you skip the bread. Have a light meal, while enjoying one of the best selections of natural wines in Amsterdam.
BURGERMEESTER in Di Pijp
If you want a burger made with pasture-raised beef, give Burgermeester a try. The owner of KEEK recommended this small chain for their good quality meat, but this was yet another place we didn't have the opportunity to try for ourselves.
I believe that the rest of their ingredients are conventional, but made fresh and largely sourced from Holland based producers. The food is supposed to be free of preservatives or other additives found in outsourced processed foods. With three locations around central Amsterdam, it's a convenient lunch or dinner to seek out.
FOODHALLEN in Oude-West
This is yet another excellent European food stall installation in a beautiful old warehouse. We didn't have a chance to eat here, but as with the food halls we saw in Oslo and Copenhagen, this is an excellent option to find something gluten free while dining with a friend that eats gluten.
NOORDERLICHT CAFE in Noord
If you want to dine outdoors with a view of the bay, in a neighborhood that feels definitively local, take a ferry to Ver NDSM Werf, followed by a short walk through an industrial arts district to reach Noorderlicht Café.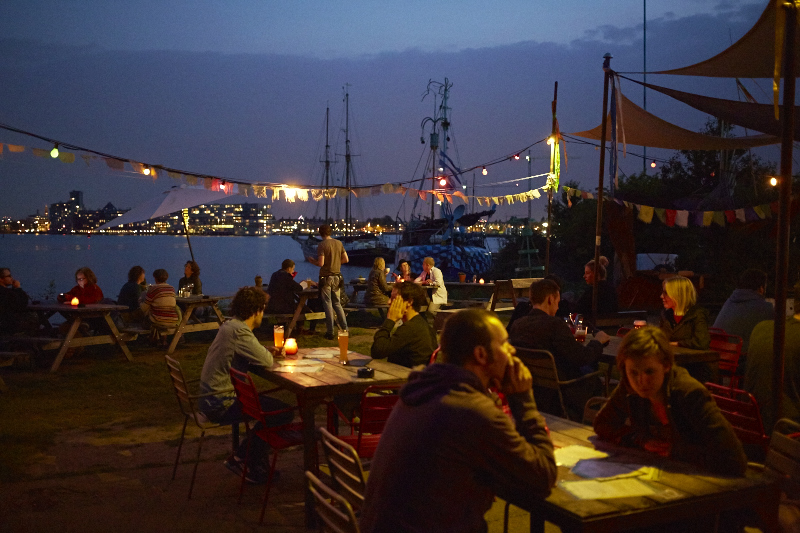 The dinner menu is much more ammenable to dining gluten free, but there are a couple of gluten free lunch options to choose from if you find yourself there in the afternoon.
Some ingredients are organic and the meat and fish are coming from sustainable local sources. The well prepared food takes a modern approach to some traditionally Dutch fare.
Organic Grocery in Di Pijp
With it's great variety of restaurants, cafes, what looked like a daily outdoor farmer's market and organic grocery shops, we enjoyed Di Pijp more than any other neighborhood in Amsterdam.
If you plan on a longer stay, this will be the most convenient neighborhood in terms of amenities. The below organic markets are just a couple of many dotting the neighborhood.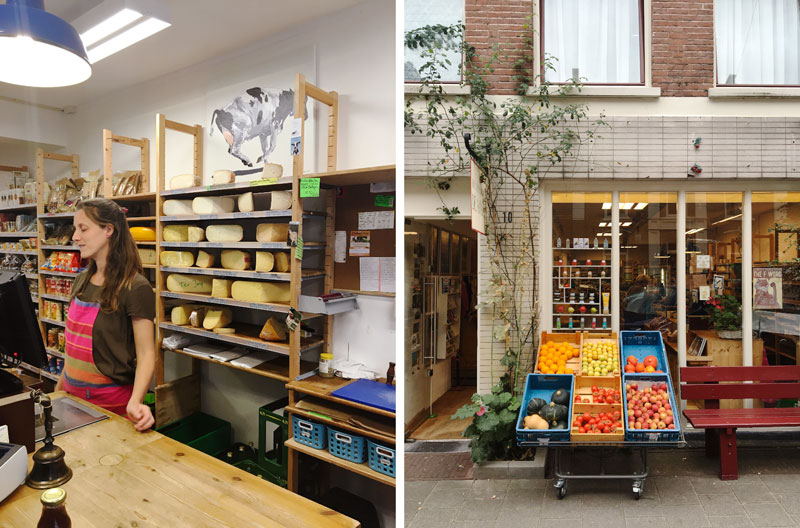 DE AANZET
Just about everything in this market is organic, with a large selection of organic cheeses, gluten free dry goods and just about anything you might need. The prices at the De Aanzet were reasonable too!
UNLIMITED HEALTH
Unlimited Health is a store with juice bar, attached to a yoga studio. It's quite pricey but you can get anything you need in terms of organic and gluten free dry goods, or snacks, plus they carry items like water kefir and other delicious health tonics.
Utrecht
KAZERIJ STALENHOEF Cheese Shop
If you're considering making the trip out to Utrecht, after you take lunch at KEEK be sure to stop by Kazerij Stalenhoef, the cheese shop next door. It's a must if you have any love for cheese!
The shop features the most impressive collection of fresh and hard cheeses that I've ever laid eyes on. There are only a handful of organic cheeses to choose from, but many cheeses come from farms with good practices that are not certified organic.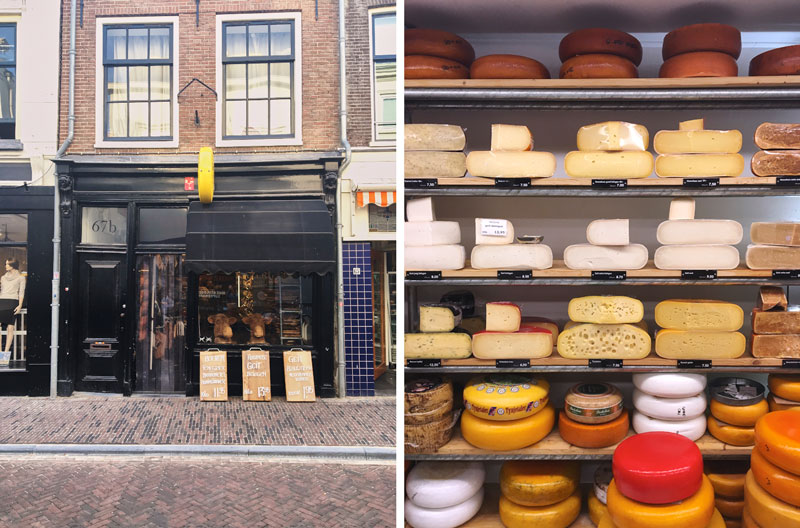 The Netherlands has a similar problem as in the US where it's often too expensive and complicated for farmers to get certified, so there's a good chance that these artisanal cheeses are coming from pasture raised animals.
Aside from cheese, Kazerij stocks the most wonderful collection of olive wood cheese boards, bowls and mortar & pestle sets. Go for lunch at KEEK and get some vacuum packed cheese to take back home from Kazerij!