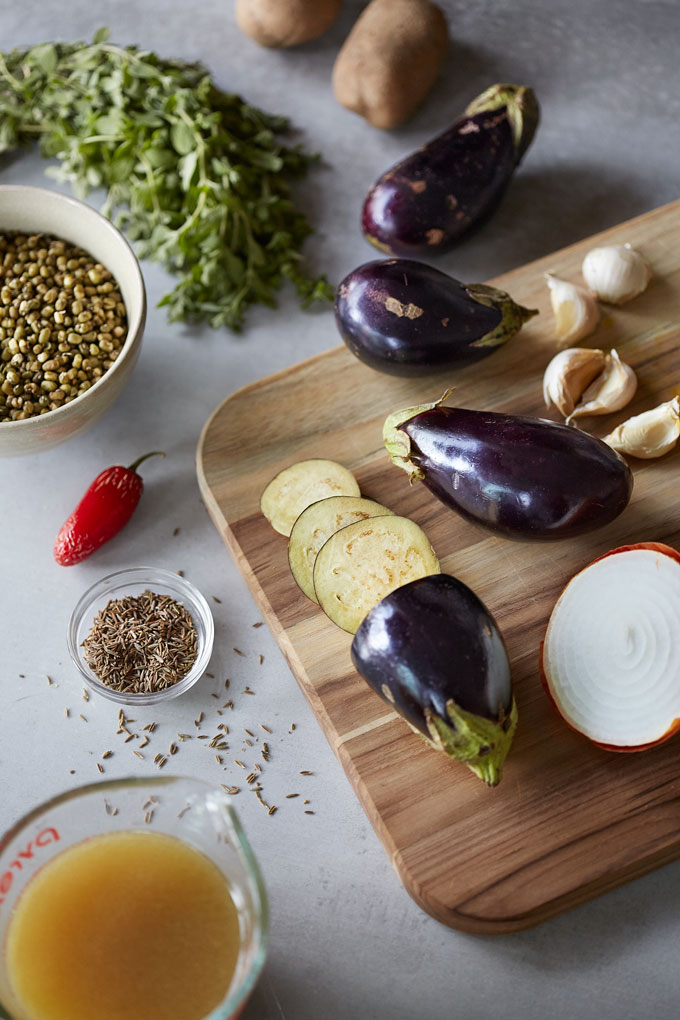 Comfort you're belly & sooth your soul with a bowl of fragrantly creamy soup
The beautiful thing about this recipe is that it can please both those who prefer chunky textures (like my husband), as well as those of us (like me) who's mouths water at just the thought of indulging in a bowl velvety, pureed soup.
This rich and creamy, yet meatless and dairy free soup is meant to be served with chunky add ons, not unlike condiments. This way, everyone at the table can personalize the soup with as many potatoes or as much eggplant as they wish.
If you're not familiar with Mung Beans, they're a wonderful variety of bean from the same family of legumes as peas and lentils. This Ayurvedic food is prized for its medicinal properties, but is one of my favorite beans because of its delicious buttery texture and subtle flavor.
Mung beans are not only an incredibly nutritious plant protein source, but also comes packed with these nutrients:
manganese
potassium
magnesium
folate
copper
zinc
amino acids
plant protein
dietary fiber
What exactly are the benefits of the nutrients found in mung beans? Aside from their long standing use in the Ayurvedic tradition as a detoxifying food which aids in balancing the mind/ body constitutions, in a recent study mung beans were found to specifically have antioxidant, anti-microbial, anti-inflammatory, anti-diabetic and anti-tumor effects!(1)
Mung beans combined with bone broth, garlic, onions, chili, eggplant and fresh marjoram come together for a seriously nourishing and healing dish. But pureed and garnished with fresh marjoram, and maybe even Crème Fraîche, this recipe shines a new light of deserved elegance on mung beans. You will love this soup.
Cooking Tips
Marjoram
Be sure to get fresh marjoram for this recipe. The dried herb won't give you the kind of sharp accent that the fresh leaves supply. I can almost picture the herb slicing through the creamy, warming flavors. It's that dance that makes this soup so delicious.
Beans and Broth
You'll also need a bag of TruRoots Sprouted Mung Beans. And while you're at Thrive, you might as well pick up a jar of Epic Homestyle Savory Chicken Bone Broth – unless of course you've gotten into the habit of slow simmering your own homemade bone broth!
TruRoots Sprouted Mung Beans cook quickly and make the most delicious bean. Just make sure to follow my cooking instructions. The directions on the bag are way off!
If you buy regular dried mung beans, you'll want to follow these soaking instructions:
Combine beans with plenty of filtered water and a splash of vinegar or lemon juice.
Soak for a minimum of 6 hours, or continue to soak in the same batch of water for up to 24 hours.
If you're not ready to cook when 24 hours is up, simply refill with fresh water and vinegar.
Soak covered, in a dark warm place such as a cupboard.
Pour off the soaking liquid before cooking and rinse the beans at least once.
Store dry beans in a glass container with a tight lid, away from direct sunlight to prevent rancidity.
Soaked and sprouted beans absorb water, decreasing cooking time and bean to water cooking ratios. Once you've cooked sprouted beans a few times you'll get a better sense of water ratios. In the meantime, consider reducing water by about 30% of the listed dry bean ratio.
Protective effects of organic solvent fractions from the seeds of Vigna radiata L. wilczek against antioxidant mechanisms. Chung IM, Yeo MA, Kim SJ, Moon HI. Hum Exp Toxicol. 2011 Aug;30(8):904-9. doi: 10.1177/0960327110382565. Epub 2010 Aug 27.