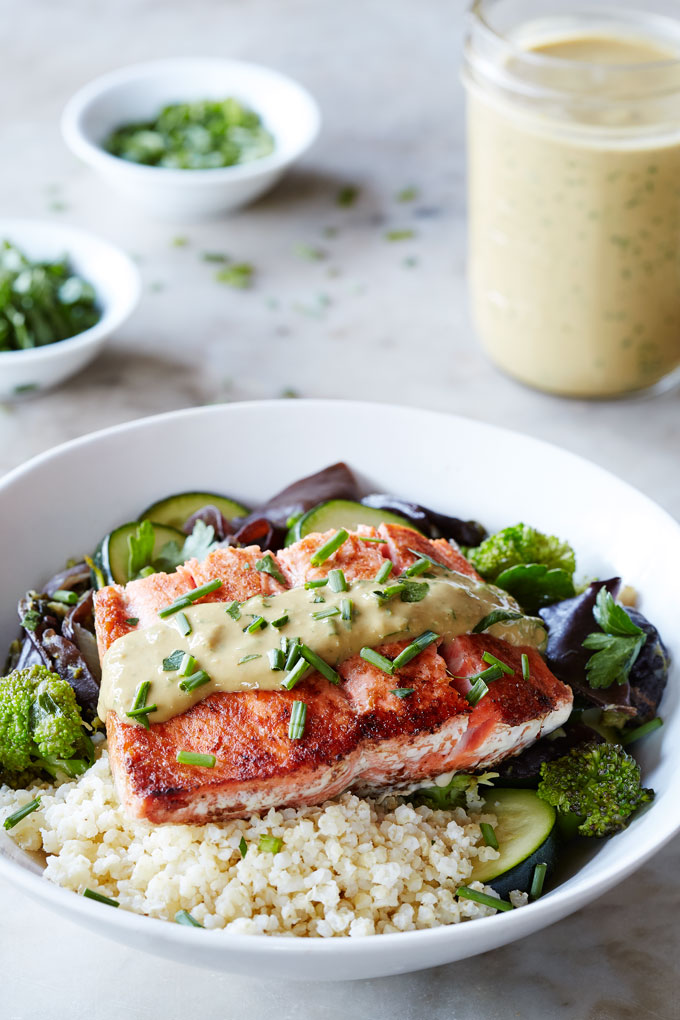 An anti-inflammatory macrobiotic meal
Lightly stewed, bone broth infused veggies and Wood Ear mushrooms, topped with pan seared wild salmon and a piquant peanut dressing make for a deliciously healthy and quick dinner. It's easy enough to throw together quickly if you're dining on your own, or serve with ample garnishes and pretty plating for a meal with friends.
You'll have no trouble finding the time to whip up the Spicy Peanut Dipping Sauce while making the rest of the dish, but you might consider making a big batch in advance to lighten the prep load on the night of the meal. If peanuts aren't your thing, top the fish with my incredibly delicious Toasted Sesame & Miso Dressing.
Although the veggies, fish and peanut sauce are satisfying on their own, try making a side of Basic Millet if you'd like to serve the meal with a grain. Millet is especially good at soaking up the broth, and resulting in an umami rich bready flavor.
Nutrition
The combined nutrients of broccoli, zucchini and spinach, lightly cooked in Homemade Bone Broth, with onions, garlic and Wood Ear mushrooms encompass a huge list of health benefits, while being easier on digestion and better absorbed than eating these veggies raw.
The bone broth and butter base are, as always, a key factor in helping to make the nutrients in the vegetables more efficiently absorbed by your body. These veggies are a source of dietary fiber, and when gently cooked, an array of vitamins like vB6, vB5, vB1 and vE, as well as trace minerals like selenium, manganese, magnesium, copper, zinc, iron, and macronutrients like choline. Wood ear mushrooms are packed with high amounts of iron and the incredibly valuable antioxidant vitamin B2, or riboflavin.
Altogether, the stew alone will support your body in maintaining a healthy metabolism, nerve function and liver function, while increasing immunity, preventing oxidative stress and defending against free radical damage and inflammation.
Paired with Wild Alaskan Salmon, you're adding to the list a healing dose of taurine (another powerful antioxidant), more vitamins and minerals, as well as a complete protein source and therapeutic amounts of omega-3 fatty acids. Omega-3s are essential to good health because they decrease inflammation in the body by protecting cell membranes and supporting proper cell function. The salmon together with the stew makes for a truly healing meal.
Cooking Notes
The main thing to note with this dish is that cooking times have been reduced to a minimum to retain nutrients and yield a fresh dish. If you prefer slightly softer veggies, go ahead and cook the stew a few minutes longer. Just take care to cook the Wood Ear mushrooms for only about 7 minutes. You'll get the most out of the precious nutrients that way, as well as the best texture.
If you shop at your local Farmers' Market you might find other types of spinach or wild greens to use instead of baby spinach. Have a look at my first process shot to see what New Zealand spinach looks like. If you happen upon Wild Spinach, also known as Lamb's Quarters, don't pass it up! It's by far one of my favorite greens and would make a lovely addition to this stew.
Don't forget to check the ingredients list for the Spicy Peanut Dipping Sauce or Toasted Sesame & Miso Dressing, and the Basic Millet as your side of grains.
Lastly, if you don't feel like fish, toss some 1 inch cubed chicken breasts into the stew (at the same time as broccoli and zucchini), or top with pan seared chicken breast strips. Of course, topping liberally with the Spicy Peanut Dipping Sauce.
Tools & Pantry Shopping List
You don't need any special tools to make this recipe. Just a good heavy pan and large pot or braiser. You also don't need much in the way of staples, but here's what might be useful if you're looking to stock up on good salt, bone broth and upgrade your pots.
On Amazon:
For easy discounted Thrive Market shopping: