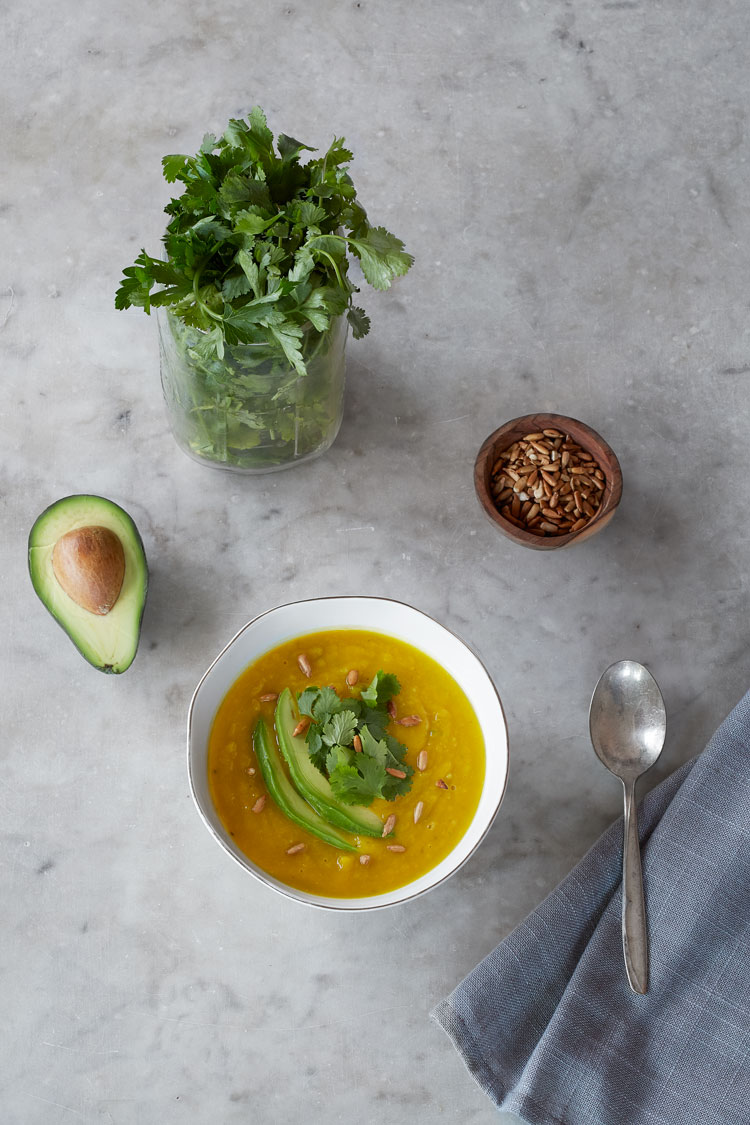 Pumpkin Soup with Latin Soul
Despite its name, Sugar Pumpkin is surprisingly one of the least sweet varieties of winter squash. It lends really well to a pumpkin puree soup that has a piquant and savory flavor profile, rather than the more common sweet pumpkin soup. The addition of ghost pepper creates a smooth heat that works well with the garlicky, lightly sage infused flavor.
Topping this thick soup with plenty of thinly sliced avocado, cilantro leaves and crispy sunflower seeds is essential to the dish. So be sure to have perfectly ripe avocados on hand and a bag of roasted, toasted or sprouted sunflower seeds.
Cooking tips
The only part of this recipe that takes much time is the roasting of the squash. Hands on you're looking at about 20 minutes of prep and garnish time.
Broth
Although bone broth will make this soup all the more healthy, this dish packs a lot of flavor so it can actually stand to made just using filtered water. If you don't have a batch of homemade bone broth at your disposal, try this chicken broth by Epic.
Sugar Pumpkin
If you don't have a large enough Dutch Oven to roast the whole pumpkin, you can cover it with unbleached parchment paper to retain as much moisture as possible. Just scrub the skin before cutting it into quarters. The skin's easily come away from the flesh once it's been cooked.
Buy Organic
Be sure to buy any variety of pumpkin or winter squash from a chemical free farm or Certified Organic at the grocery store. Winter squash has been found to be an effective intercrop for use in remediation of contaminated soils and is especially good at pulling Polycyclic aromatic hydrocarbons (PAHs) and other contaminants out of the soil. You certainly don't want those toxins ending up on your plate!
Ghost Pepper
I used one, one inch long ghost pepper and that was the perfect amount of heat – spicy, but not overpowering. You don't want to overdo it, so if you're using dry or powdered chili test the waters as you go before getting in too deep!
If you can't find fresh ghost pepper, try dry. If dry isn't available to you, try another fresh chili pepper. Habanero or jalapeño would be two good options. Wear gloves when prepping chili peppers! You'll be glad you went through the trouble.
Puree While Cold
After sautéing the leek, cumin and garlic base, add cold water or broth to the pot and turn the heat off to keep the liquid cool for blending together with the pumpkin. You'll need another bowl or pot on hand to blend the entire soup in batches. Once pureed, put the mixture back in the pot and gently warm to serving temperature.
Garnish, serve and enjoy!