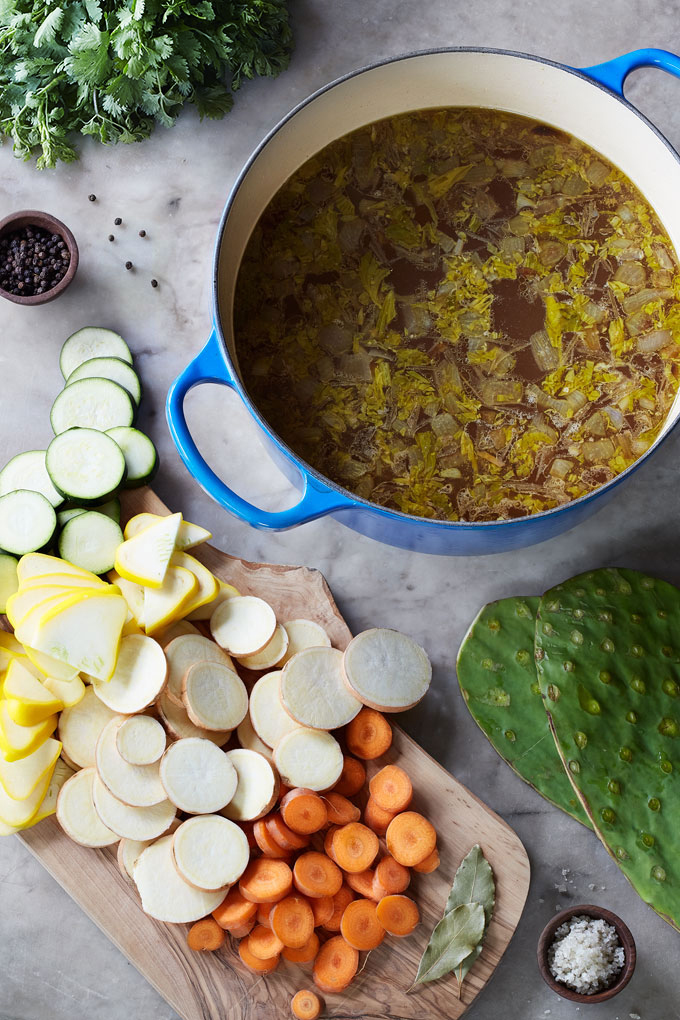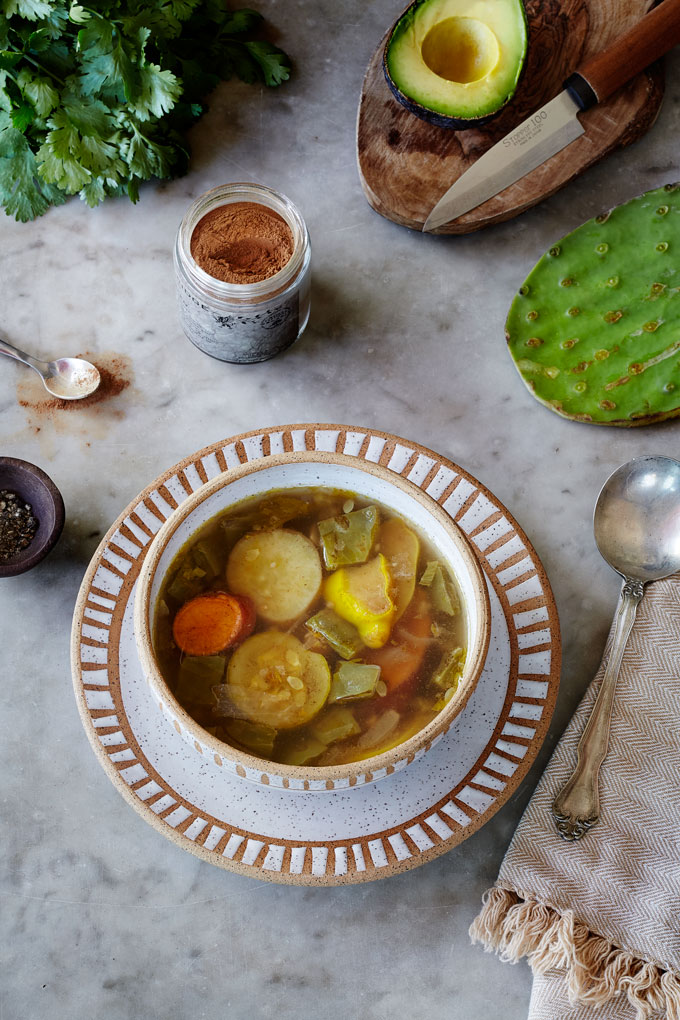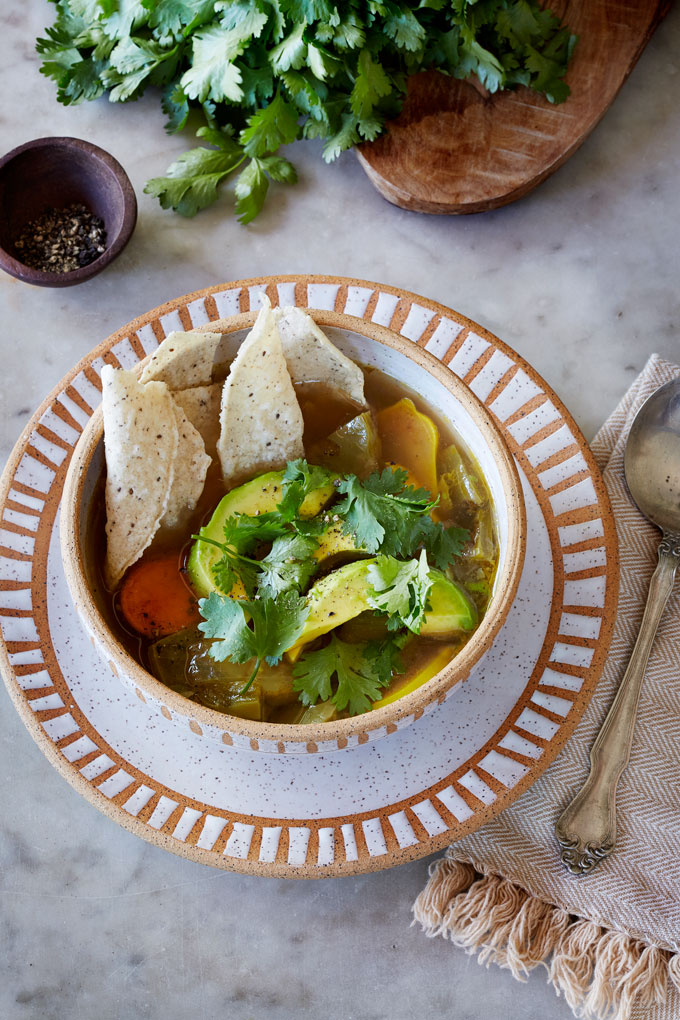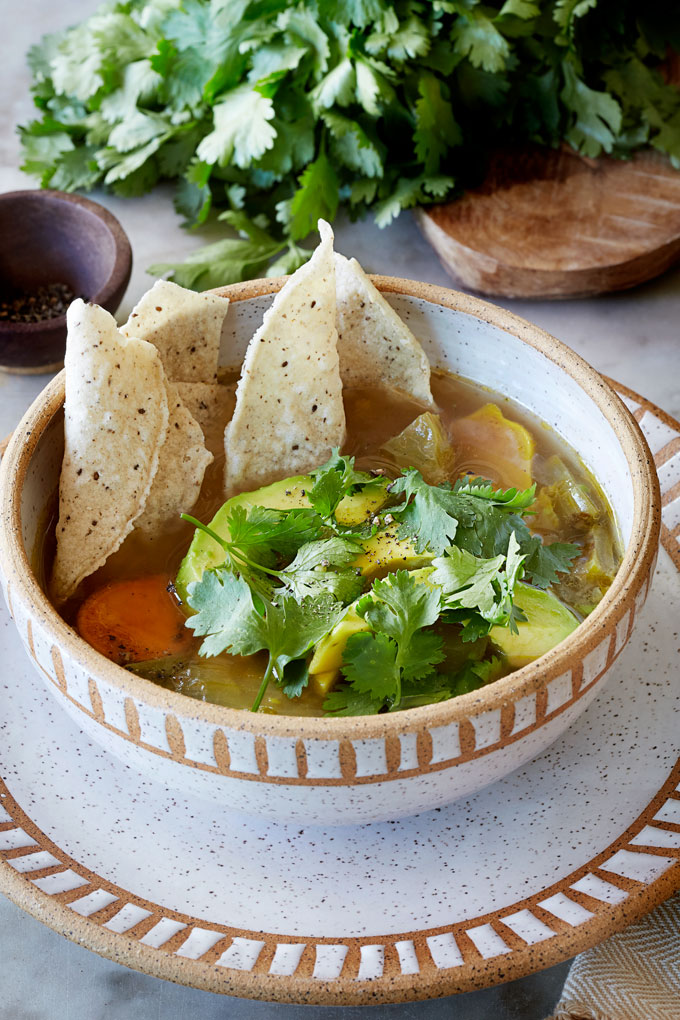 A soup for lovers of decadent broth, with magnificent healing properties
Last week I posted about the parallels between some traditional cooking techniques and herbal extraction methods. After writing the post I prepared a wonderful Nopales soup abiding by the rules for medicinal water extractions. Gently simmering the roots for close to 30 minutes, adding the zucchini and Nopales towards the end of the cooking time, and adding the spices to infuse after cooking had ended.
Adhering to these rules makes for fairly quick cooking time, and a soup that's full of incredible health benefits as a result of healing constituents being properly extracted from the ingredients. But don't get me wrong – this soup is not just healthy, it's delicious as can be!
Inspired by Mexican Tortilla Soup this brothy dish featuring Nopales cacti and Siete grain-free cassava flour Tortilla Chips, boasts an out of this world broth accented by a hint of cinnamon and a milky texture thanks to the mucilage released from the Nopales and the lightly dissolved cassava tortilla chips. I know – sounds like a mouthful! It's too good for words. You just have to try it.
To learn more about herbal extractions and how they relate to cooking, be sure to read:
THE ALCHEMY OF COOKING & WHAT HERBALISM CAN TEACH US ABOUT COOKED FOODS
Health Benefits
When slowly simmered, the sweet potatoes, onions and garlic in this soup will release prebiotic compounds like inulin and oligosaccharides. These prebiotics are food for the good bacteria needed to keep your body healthy. How it works is that these particular carbohydrates can't be digested by the body, so once they end up in the colon, the good bacteria work to ferment these undigested carbs and as a result create their own source of food.
In herbalism hot water in particular is known as a powerful solvent for not just these prebiotics that feed the probiotics in your body, but also for minerals, mucilage, and a majority of medicinal constituents. Cooked in the order devised for this recipe, you will be pulling out the maximum benefits out of all the ingredients.
By adding the prickly pear, or Nopal, towards the end of the cooking time, you make the most of the extraordinarily therapeutic mucilage abundant in these edible cactus pads. Most effectively extracted by water, mucilage is a type of soluble fiber that will absorb water and help regulate bowel function. While the demulcent properties of mucilage will "caress" and sooth mucous membranes. This makes Nopal, a mucoprotective agent that can relieve minor pain related to an irritated gut and reduce inflammation and irritation of the intestinal lining, and length of the whole bowel.
Aside from the mucoprotective properties, Nopales are an especially healthy vegetable with a wide range of health benefits. They've been found to help with everything from skin health, weight loss, heart health, digestion and bone density, to reducing inflammation throughout the body, preventing cancer and regulating metabolic activity.
These benefits can be attributed to mucilage, polysaccharide and phytochemical content, as well as a vast number of other nutritional properties, such as vitamins like riboflavin (B2), vitamin B6, vitamin A, vitamin C, vitamin K and minerals such as copper, iron, fiber, calcium, potassium, magnesium, and manganese.
Aren't you excited to get into some prebiotics and mucilage? Again, I promise that aside from all these outrageous benefits, this soup is divinely delicious!
Cooking Notes
The main thing to note is to follow cooking times and heat instructions closely, and to keep the lid in place as much as possible in order to prevent any volatile aromatic compounds from escaping your pot of precious healing elixir.
Modifications
If you'd like to add chicken to the soup, simply add cubed or shredded raw chicken breast at the same time as the sweet potatoes.
If you like Tom Kha soup, create a similar taste by simply adding a few tablespoons of heavy coconut cream or coconut milk to the pot once it's done cooking. Or simply mix into the serving bowl. Top with the same garnishes of avocado and cilantro, and add some sauerkraut or kimchi! It's an outrageously delicious combo!
For the red bell pepper, it's not essential to this recipe and you won't be missing anything if you want to skip it, but it's a nice touch if you'd like to heighten the Southwest flavor.
Tools & Pantry Shopping List
All you need to make this soup is a large, roughly 5 quart, pot, a good cutting board and knife. You'll also be glad to have a mandoline to do the chopping. If you don't already have one of these inexpensive tools, I recommend you invest in one ASAP. You will thank me. Just be careful when slicing away!
You also don't need much in the way of staples, but here's what might be useful if you're looking to stock up on good salt, seasonings, bone broth and upgrade your kitchen tools.
At Bloomie's
On Amazon
SaveSave
SaveSave
SaveSave
SaveSave
SaveSave